Note: Please ensure all digital files are downloaded to your personal system within 30 days of purchase. FHTJ is not responsible for storing files indefinitely. We will keep deleting them from our server periodically. Hence it is the responsibility of the customer to save the files as soon as possible. However, if you lose the files or do not download before they expire please write to support@fromhertachetojoy.com and the files will be sent to you for a charge of $20 per download page.
Downloading an MP3 File to a PC
To download an MP3 file to your PC, right-click on the "Download" button of the MP3 file and select "Save Target As" if you are using Internet Explorer or "Save Link As" if you are using Firefox. Next, navigate to the directory where you want the file to be saved. Once the download is complete, you can open the file to play it or transfer it to your MP3 player.
Playing MP3 Files on a Windows System
To play your downloaded MP3 file, open it in Windows Media Player, Real Player or any other music player.
Downloading an MP3 File to a Mac
To download an MP3 file to your Macintosh computer, control-click on the "Download" button of the MP3 file and select "Save this link as." Select the directory where you want the file to be saved. Once the file is downloaded, open the MP3 file in your favorite music player or transfer it to your iPod or other MP3 player.
Download this PDF for clarity around The Decrees
Would you like more sessions with Nidhu? Here's a Super Exclusive and Super Discounted Bundle offer for you!
12 Clearing decrees for money over 5 weeks AND 12 unbelievably simple tips to enhance money vibrations
Beginning on Mondays, you get two emails in your inbox every week to remind you of the power of the Clearing decree as well as give you tips as simple as the one you hear on the call!
Your first MORE MONEY email comes to you on Monday, 16th April and then on Thursday, 19th April i.e two emails per week.
8 Master learning group workshops over 5 weeks
The Master learning workshops take you through the families of fear, anger, grief, judgement, pain and illness with the clearing decree, actualisation decree and more of my unique processes such as the communication series, Astars and using the moon cycles to heal, but our focus will be practicing and using the clearing decree for immediate shifts in our lives!
The calls include more than 200 clearing decrees AND 3 adaptations to use the clearing decrees, so you will see how they are applicable NO MATTER WHAT you are dealing with
Our thoughts make our belief systems and our belief systems make our reality. These clear all existing belief systems around money that you could have gotten from your family, lineage and ancestors
The magic of group work lies in the group collective energies and I have seen that this becomes a source of strength and power - a separate force by itself, so even if you can't attend the live calls, your very connection to the group will mean shifts for you when the call is on.
Our group calls begin on Wednesday, 18th at 9pm IST and happen at the same time on Friday too - that is two calls per week. We take a break only after the first set of calls are over.
11 MP3s with over 100 clearing decrees
as well as actualisation decrees
This will have a welcome note which is a hitchhikers guide to using the decrees along with a list of words to cover symptoms of fear, anger, grief, guilt, cognitive dysfunctions, entities, illness and disease. And the following 11 MP3s
1

Clearing decrees for fears:

You were born to be fearless. And now you can be! Use for all fears, phobias, insomnia, nightmares, asthma, skin disorders, allergies, addictions, shyness, colds, coughs, adrenal fatigue, Alzheimer's, pain in the lower back, neck and shoulder distress, excess weight but say the clearing sentences for these labels too. I wish you much calm confidence.
2

Clearing decrees for anger:

Use for all fevers, ulcers, heat in the body, heat flashes, cold, cough, sinusitis, fibromyalgia, arthritis, cancer, diabetes, pain in the lower back, neck/shoulder/upper arm distress, excess weight, Parkinsons, but say the clearing sentences with these labels too. I wish you much ease and peace with this.
3

Clearing decrees for grief:

Use for depression, breathlessness, asthma, insomnia, flabby weight, but say the clearing sentence for the label too. I wish you a quick return to gladness and lightness.
4

Clearing decrees for guilt, blame and shame:

Use in Bipolar disorder, depression, apathy, any mental illness and passive aggressive behaviour. You will see the difference within 72 hours! I wish you forgiveness and worthiness with these.
5

Clearing decrees for disempowering thinking:

We know about limiting beliefs. Now Say goodbye to the imbalanced and dysfunctional thinking that led to them with this recording. Take a look at the list in the page above - you may be surprised at how many may be in place. I wish you joyful neural pathways
6

Clearing decrees for entities:

Play this recording at dusk and before sleeping for optimum results. If you are prone to such attacks, repeat the sentences after me till they become a prayer by rote - it takes less than 1 minute! I wish you safety and protection
7

Clearing decrees for Illness:

Play for any and all illness, but check the text and use the relevant ones from above too. Please be mindful of all detox symptoms! Wish you good health
8

Clearing decrees for disease:

Play for any and all diseases, but check the text and use the relevant ones from above too. Please be VERY mindful of all detox symptoms. I wish you deep healing and divine interventions.
9

Simultaneous and together clearings of all the above except illness and diseases:

Pay this on mute for some extraordinary releasing!
10

Bonus: All clearings from above in one loop, except illness and disease:

If you know you are dealing with multiple issues/projects at the same time, keep this going in a loop.
11

Actualization decrees:

From love to health to positivity to monies, you want this for a boost of wellbeing and immediately activating the law of attraction for MORE good.
Entry into the unconventional FB group
Most of my calls take place with chats on FB - I find that this makes listening to the replay easier because the chats are readily available on the FB page and besides, its is great place to stay in touch! Even when the program gets over, yo can stay and benefit from being part of the group!
Important: Apart from the work we do, you have permission to share pics, quotes and happenings from your part of the world and life.
Entry into the Elite and Confidential whatsapp group
Whatsapp is FREE to download on your phone and offers quicker response time and deeper interactions than FB. The phone, after all, is easier to connect with than the computer!
My groups usually have a bunch of sharing, caring people with awesome empathetic energies. You are invited in!
Please add Neelu at +91-9830051888 to your whatsapp account, if you have one (do download it, if not. It is free and you will be amazed you didn't use it before). Send her a whatsapp text thereafter so she can add you to our exclusive The Decrees group. If this is just too much, then download the app, install it and send your number to nidhusatishkapoor@gmail.com so she can add you to her contact list and put you in the group.

Do not be flustered by the instructions 🙂 Download the app and the rest will follow!
Everything in Package A
8 hour workshops for healing with the father over 5 weeks
8 hour workshops for healing with the mother over 5 weeks
30 mins personal session
Certificate for completing the entire course with The clearing and manifesting sentences - this allows you to share and teach others the T3 decrees
3 Trainee internship calls once a month over 3 months
Priceless Bonus: Permission to share all except the certificate and the Trainer support calls
8 hour workshops for healing with the father over 5 weeks
Format: Calls on Instant-teleseminar
Our fathers carry our paternal ancestral lineage and our mothers, our maternal ancestral lineage. Their relationship with each other and with us comes down through many generations. The choice of our families are Karmic and you are now in the unique position of mirroring entire generations of strengths and dysfunctions. Even your body in its yin and yang, left side and right side mimics the relationship between your mother and father. As you heal, so do they. As you do the work, you open both sides of your family to release their Karmic debt.
Details will be sent to your email
8 hour workshops for healing with the mother over 5 weeks
Working on the relationship with our parents is the final stage of healing and in the final stage of healing, working on the wounded mother-child relationship is the hardest. She is our life giver and the ultimate authority in our lives (however much we may convince ourselves otherwise!)And so we broach it right at the very end...
This year, with the help of both Lord Saturn and Venus, we will be given definitive reasons to begin work with the family and sure-fire divine support systems to change our Karma! Say YES!
Details will be sent to your email
My personal sessions include many a process unique to me! From my clearing sentences to gongs to multidimensional work to mudras to Astars to moon cycle burnings, you will always leave feeling better. I have also fallen into the habit of ending with prescriptions, so if required, you will be given simple work to follow through on your own. This time around, we will focus the healing with clearing sentences and as you may have already experienced, it takes only a few seconds. Imagine what we can do in 30 minutes!!
You will get an email with the scheduling link for your appointment with Nidhu
Certificate for completing the entire course with The clearing and manifesting sentences - this allows you to share and teach others the Decrees
Format: on-line/Digital Copy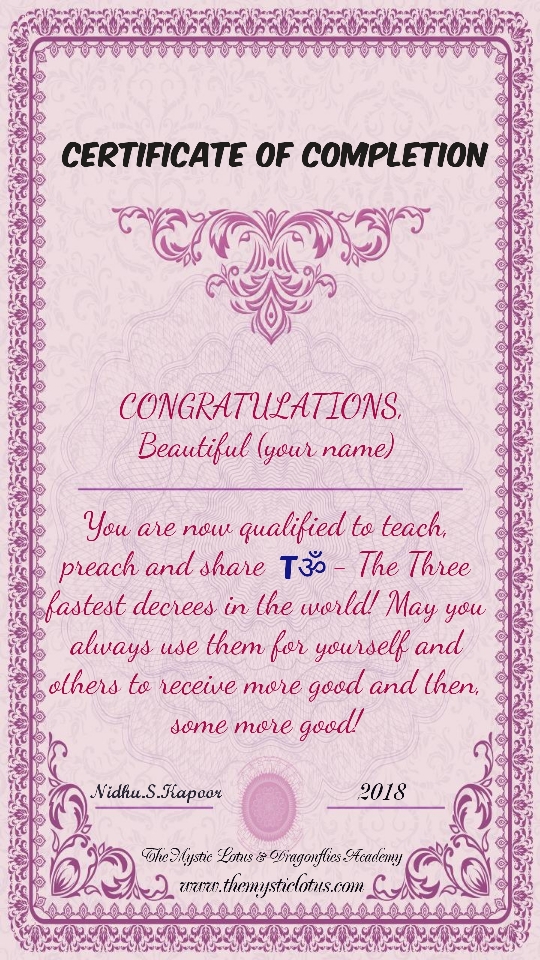 The first ever training course on FHTJ is here! Be the proud recipient of your very own certificate for the work you do! And yes, this certificate allows you to share and be a trainer for the T3 clearing decree - after all the time we would have spent practicing and perfecting it, you can now go ahead and be a practitioner yourself! How cool is that!
3 Trainer internship calls over 3 months
Much as we will cover every possible way to use the decrees and see its many miracles, it is possible that your three months of internship will bring up something new. These calls will take care of that.
It is also possible that you may come up with another way to use the decrees - these calls are also to share that so we can all be on the same page
Practitioner Annual call in March 2019
We will get together for upgrades and adaptations (if any) to our existing knowledge. And of course, it will be great to catch up with my trainers!
Permission to share all except the certificate, the trainee support calls and the practitioner annual call
DISCLAIMER: The information on this site is not intended or implied to be a substitute for professional medical advice, diagnosis or treatment. All content, including text, graphics, images and information, contained on or available through this website is for general information purposes only. Please see a medical professional if you need help with depression, illness, or have any concerns whatsoever.
WE DO NOT OFFER MEDICAL ADVICE, COURSE OF TREATMENT, DIAGNOSIS OR ANY OTHER OPINION on your conditions or treatment options. SERVICES OR PRODUCTS THAT YOU OBTAIN THROUGH THIS WEBSITE are for information purposes only and not offered as medical or psychological advice, guidance or treatment.
CONSUMER NOTICE: You should assume that From Heartache To Joy has an affiliate relationship and/or another material connection to the providers of goods and services mentioned on this page and may be compensated when you purchase from a provider. You should always perform due diligence before buying goods or services from anyone via the Internet or offline.
REFUND POLICY: Please know that in order to honor the Law Of Energy Exchange, all exchanges need to be fair energetically. We love and honor all of our valued listeners and speakers. We are happy to offer a hassle free, 30 day Money Back Guarantee to our customers to help them decide if a certain product works for them or not. However, in order to honor our speakers and their hard work we can only offer refund on one package for every customer per 90 days. Multiple refunds by same customer within 90 days will not be accepted. If speaker's offer involves personal sessions, then guarantee will be voided if the session has been availed. Additionally all refund requests should be sent within the 30 day guarantee period. We thank you in advance for respecting the energy exchange.
Copyright © 2018 - Eram Enterprises Inc - All Rights Reserved