How to Keep Your Man Out of My Bed - PDF

By Mary Knight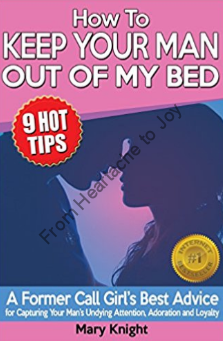 A Former High-End Call Girls Best Advice on How to Capture Your Man's Undying Attention, Adoration and Loyalty.
This book gives you vital tips, insights and facts for changing your love life for the better! In it you'll discover:
The number one "innocent habit" you have to change right NOW if you want to enjoy a deeper connection with your man (this realization helped even complete strangers feel comfortable with me, so imagine what it can do with someone you love).
Six magic words that will penetrate your man's masculine brain... re-wire him to understand you better... and make him feel like a million bucks for doing things that please you.
A simple face-to-face mind 'trick' that instantly shakes both of you out of "confrontation" mode... and soothes you into a space of authentic empathy and acceptance (try it the next time you're talking to him, he won't even know you're doing it!).
Right click on the button above and select "Save as" or "save link as" to download to your device.
Want to receive more such exclusive gifts and offers? Please sign up below!
Copyright © 2017 - Eram Enterprises Inc - All Rights Reserved