Are you out of alignment for attracting infinite abundance into your life?
Have you worked your manifesting mojo to the bone in the past with little to no results?
Do you feel that you attract debt faster than abundance?
Do you often say "I can't manifest anything", "I am too busy responding to life to have time to manifest a better one", or "I don't think I deserve anything better."
Have you given up on creating a life you love because disappointments of the past haunt your dreams?
When you see people enjoying the abundance they create in their lives does it seem impossible for you?
Have you tried abundance programs in the past and wondered what went wrong because other people had amazing results?
CHEQUE FOR OVER £2000
"I have to tell you the best thing ever! I did what you told me and today I got a cheque in the mail for over £2000!!!! I couldn't believe it. I had given up on getting this money because it was from years ago. Love you and your program Chameice!!!"
~ Maureen Thompson
Attracting infinite abundance is one part focus/desire and two parts knowing you deserve it and are worthy of it!

Most abundance programs focus solely on clarity of desire and maintaining your focus. They teach you how to create vision boards, affirmations, and clear requests to the Universe, but do not assist you in releasing your abundance blocks or teach you how to become a vibrational match to abundance.

The Abundance Code is a complete energetic, mental, and emotional reset program that assists you in identifying your abundance blocks so they can finally be released for good, opens you to receiving the new Abundance codes that are coming in, shows you how to retrain your neurological pathways to receive infinite abundance, shows you how to maintain focus on your desired outcomes, and connects you deeply into your self-worth so you know you deserve ALL you desire and can create it masterfully.
WAS LIVING PAY CHECK TO PAY CHECK..NOW I FEEL LIKE I HAVE A NEW LIFE
"I was lucky that Chameice asked me to help her test her new abundance program to make sure it worked for different people not just her. I have never felt like a lucky person but since Chameice taught me how to manifest right I am getting almost anything I want.
I struggled to just make it through the month before Chameice taught me this system. I could barely pay my bills. I was living pay check to pay check. Now I have extra money to buys things I want not just what I need. I feel like I have a new life. If only I would have known this stuff a long time ago. I can't thank you enough for this amazing new life."
~ Frankie
During this program, you will release, reset, and transform deeply ingrained patterns, beliefs, and agreements that no longer serve your highest good. You will:
Delete all cords and ties to lack and limitation
Delete outdated blueprints that keep you manifesting on default
Release old neurological patterns that prevent you from manifesting successfully
Let go of the past to create an abundant, joyful future
Learn to manifest consciously
Connect to your inner power
Find the courage to go big with your life
Find gratitude and acceptance to attract your divine abundance
I MANIFESTED A PAY RAISE IN TWO WEEKS
"I was skeptical about buying another abundance program because I have never had success with one in the past, but by the first two weeks I manifested a pay raise! I was delighted and will keep going to attract bigger things. Thank you!"
~ Shelly Donovan
I JUST MANIFESTED MY DREAM JOB
"OMG. I just manifested my dream job. I have wanted this job for years and never thought I would get it, but just decided to go for it. Now it is mine with paid travel expenses! Thank you thank you thank you."
~ Amelia Somerset
I KEEP GETTING MONEY OFF AT STORES
"I keep getting money off for the things I purchase! Every time I go to buy things I need they are on sale. It feels like my birthday every day. Love this feeling."
~ Rebecca Miller
YOU ARE A MAGIC WORKER
"I wanted a dream boyfriend so badly, but had almost given up. I tried The Abundance Code and bumped into him the other day. I started to go into the old programs of "He wouldn't go for me. I'm too old for him. I'm not his type." Then I stopped and remembered what you told me. So, while I finished my shopping I was imagining him asking me out and all the fun we would have. When I went to leave the store, he was there and asked for my number! He actually called last night and we went out. It was amazing. We have been talking nonstop since. You are a magic worker!"
~ Suzie Callor
The Abundance Code is a manifesting short-cut that is simple and easy to follow. It takes the guess work out of manifesting abundance to fast track you into a life of your dreams! It gets you out of manifesting undesirable outcomes on autopilot and aligns you with ALL of your desired outcomes so they manifest once and for all.

If you are not using all of the steps in The Abundance Code program, chances are you have not had consistent or successful results. You have probably managed to manifest a few, small requests wondering why other people have profound results or have completely transformed their lives seemingly effortlessly. This is the exact system that successful manifestors use to create consistent results to manifest lives they only previously dreamed would be possible!

The Abundance Code is a Firestarter for the soul. It creates an organic, passionate momentum so you see more and more of the orders you place taking form into your physical reality. You become a manifesting magnet…attracting ALL you desire with effortlessness. You feel the fear, doubt, and resistance leaving your body as you get closer and closer to your dream life. As you manifest more and more pieces of your dream life, you find that you are in an almost constant state of emotional and mental relaxation and joy. You feel in the flow of life and complete satisfaction with yourself, your life, and ALL of your creations.
I FELT TRAPPED IN SOMEONE ELSE'S LIFE BEFORE THIS PROGRAM
"I was in a marriage I hated and didn't feel supported. I had a dead-end job with crap pay. And I felt trapped in someone else's life before this program. Once I started the program I just felt different. I didn't know how or why, but I felt better even though nothing had changed. Then I found myself saying no to people and things that didn't make me happy. I started to speak up and tell people what I wanted instead of trying to always make them happy. Now I feel like there is hope for my marriage because my husband asks if I need things and we are going out together again. I quit my job and found one I love and that pays better. I feel like a new and empowered woman! Watch out world, this girl speaks her mind now."
~ Chris Zontagio
I JUST LANDED MY FIRST BOOK DEAL
"When I started this program with Chameice I was shopping for publishers for my book. I was willing to try anything to land a publishing contract. During my first session with Chameice, she showed me how many abundance blocks I had. I didn't realize how negative I had become and how negatively I talked about my dreams. I had received so many rejections trying to find a publisher that I had emotionally given up! She busted me on my self-sabotage so I could start getting exactly what I want and I did! A publishing contract that was far more than I thought possible. She is a Goddess! Just do it. You will thank me."
~ Katrina Polinski

The Abundance code includes instructional videos that help you identify your abundance blocks for a complete release along with a step by step guide on how to manifest successfully time after time, energetic alignment MP3s that open your energetic fields to the new abundance codes coming in from Universe, quick reference PDFs that remind you of the process so you can duplicate your successful results as often as you desire, and 3 divinely inspired group calls on specific abundance download dates that support the highest abundance energies of the year!

The benefits of this are:
Become a powerhouse manifestor that inspires others by living the life of your dreams
Step into your power and take charge of your life
Create consistent, quick, and successful manifestations with your clear intention and focus
Release old neurological pathways that sabotage your success
Release the past so you are free to move forward into your dreams
Create a space of gratitude so you attract more to be grateful for
Become an abundance magnet
Open to new Abundance Codes
Below Introductory Prices are for Limited Packages Only!
This is not currently offered anywhere else and will never be offered again at this price.
Discount : 83%
Total Package Value $586
From Heartache to Joy
Introductory Offer
$98

2 Abundance Code Instructional Videos

SoulFull Activations FB Group

Discount: 96%
Total Package Value $3,550
From Heartache to Joy
Introductory Offer
$148
2 Abundance Code Instructional Videos

SoulFull Activations FB Group

3 Live Abundance Activation Group Calls with Q&A

3 Months of Remote Abundance Energy Infusions

Discount : 95%
Total Package Value $4,326
From Heartache to Joy
Introductory offer
$208
2 Abundance Code Instructional Videos

SoulFull Activations FB Group

3 Live Abundance Activation Group Calls with Q&A

3 Months of Remote Abundance Energy Infusions

2 x 30 minute one on one session with Chameice

2 Abundance Code MP3s
2 Abundance Code Instructional Videos
2 Abundance Code PDFs
SoulFull Activations
Abundance Code Energy Activation for Rapid Manifestation
This energy infused MP3 should be listened to first as it contains all of the new Abundance Codes to repattern your energetic, mental, and emotional fields to handle higher vibrations of infinite abundance. This call was recorded on the first day of the new Abundance Code downloads coming in from Source. This MP3 should be listened to once a day for the first 3 days for optimum results. If you feel emotional resistance when preforming your 8x8 exercise, then listen to this once daily until you no longer feel resistance towards your desires.
This MP3 assists you in raising your vibration and keeping it high so you can manifest ALL you desire easily and effortlessly. It is recommended to listen to this MP3 daily before you begin your 8x8 process to ensure successful results in the beginning. It takes practice to maintain a high vibration while focusing on your dreams and desires; this MP3 is a success short cut until you master the process.
Vibrational Match Instructional Video
This 6 step instructional video teaches you how to manifest successfully. It helps to reveal potential abundance blocks, gives tips and guidance to maintain your focus and a high vibration to become an abundance magnet, and how to manage your monkey mind so it doesn't sabotage your creations.
Focus + Joy Vibration Power Tools Instructional Video
This instructional video contains the building blocks of teaching the mastery of combining the joy vibration (the highest vibration) with laser focus. We will discuss the importance of joyfull creations, the momentum created from a joy space, and how combining that with your focus is a magic manifestation formula for proven success.
In this PDF, we will be making an agreement with our higher selves to commit to manifesting our desires together. This agreement creates a conscious bond that helps us stay focused on creating the lives of our dreams one manifestation at a time.
This is the worksheet you will use daily to full anchor into your desires to create them easily. You will write down your desires 8 times a day for 8 consecutive days. This process helps you focus on one desire consistently for eight consecutive days building the momentum for it to manifest into the physical.
SoulFull Activations Membership
In this private VIP Facebook group, you will have the love and support of a group of like-minded soul members, access to ask Chameice any questions that might arise, ongoing energy updates, and access to discounted calls, offers, and future retreats.
Total Package Value $1320
From Heartache to Joy Special Offer $98

All of Package A Plus
3 Live Abundance Activation Group Calls with Q&A
3 Months of Remote Abundance Energy Infusions
3 Live Abundance Activation Group Calls with Q&A
These 3 divinely inspired group calls are on specific abundance download dates that support the highest abundance energies of the year. During these calls, I will channel the new Abundance Codes for the gateways open on that day for the entire group to receive. These Abundance Codes build off the previous download, so it is imperative to listen to the previous call prior to listening to the next. Replays of the live calls will be provided via email and our private Facebook group and are just as effective on the replay. These calls will also provide a live Q&A forum at the end of every call.
3 Months of Remote Abundance Energy Infusions
Every day for 3 months, I will tap into your energetic field to ensure you are completely and fully accessing the new Abundance codes. This daily energetic "push" will assist you with eliminating lack or limitation beliefs, patterns, or agreements for rapid manifestation results. It will help you fully move into a consistent and constant joy vibration so you attract your desires beautifully. This 3-month process will give you the support you need to build a strong manifesting foundation. Your energetic infusions will be sent every day at 10 am MST time. Setting your intention to receive them by saying "yes" opens your energetic field automatically. Doing this one time after purchasing this package is all it takes.
Total Package Value $3550
From Heartache to Joy Special Offer $148

All of Package A & Package B Plus
(2) 30 Minute One on One Sessions
(2) 30 Minute One on One Sessions
During your first one on one session, we will discuss your observations on the abundance blocks you have discovered beginning this program. You should begin listening to the MP3s and watching the videos as soon as possible to maximize the observation process this way you will know your current abundance relationship status. During this session, I will work with you to release any beliefs, blocks, agreements, or patterns that are stopping or slowing your process. We will discuss realignment tools that will optimize your success and manifestation speed. I will also balance and clear your energetic field so you have clarity and focus to deepen your abundance practices.
In your second session, we will discuss your success rate, consistency, manifestations. This session helps with accountability. If you know we will discussing your progress it helps keep you on track. ALL success stories speak of the power of having an accountability partner…I will be yours so we can work as a team for guaranteed success. Sessions should be scheduled at least a month apart so you have ample time to integrate the Abundance Code, practice the tools, and build steady progress. This program is intended to create a lifestyle upgrade and change in your mental focus. It takes practice to build a strong foundation. Don't rush your progress…consistency counts! Your second session will expire 6 months after date of purchase to ensure maximum effectiveness of the program.
Total Package Value $4326
From Heartache to Joy Special Offer $208

I FEEL LIKE A MILLION DOLLARS
"When I started this program I didn't love myself even a little. I wanted to change, but didn't know how. After working with you I fell completely in love with myself. Your program helped me see that I deserved a lot more in my life and that it was possible for me to get it. I am taking care of myself, if I want something I go get it, and I don't feel guilty about any of it. I feel like a million dollars. Thank you for giving me myself back!"
~ Kara Smith
I MANIFESTED THE TRIP OF A LIFE TIME

"I have always wanted to go to Greece and now I finally am! I just won an all-expenses paid trip to Greece in a Contest!!! Love you and I will send pictures!!!"
~ Nancy Ferguson
UNEXPECTED $300 DEPOSIT
"I was running low on money and had several days before I got paid, so I used your tips and just had $300 unexpectedly deposited into my bank account! This is awesome!"
~ Sam Morris
I NEEDED MONEY FAST AND GOT IT
"My car broke down and I didn't know how I was going to pay for it. I needed my car the next day to get to work. After crying for some time, I remembered what you told me. I calmed myself down and visualized getting the money to pay for my car. Within a few hours my phone alerted me that my ex just made a child support payment early! It was more than enough to pay for my car. Thank you!"
~  Jennifer Pearson
"I would really recommend listening Chameice and investing in her package! Chameice has a very fine high frequency heart-based energy, she is truly committed to empowering people. She is able to connect us with the depth of our Soul!❤🌹Her personal reading is amazing, I felt so much Lightness and Hope!"
~ Anna Ferrero

I CAN FEEL ENERGY VIBRATING, CHAMEICE REMOVED All THE NEGATIVE IMPRINTS
"Hello beautiful ones, I would like to share my experience of my 1 to 1 session with Chameice Daniel which took place a few weeks ago. Frankly speaking, this is just for the purpose of expressing my gratitude and of course for me to acknowledge the significant shift that happened and still happening otherwise it won't be easy for me to describe what's happened and is still happening up now. As far as scanning my energetics, Chameice Daniel was 100% spot on but what stunned me further was how she was able to gently blow off the debris and wipe out the negative imprints or energetic shadows of my old patterns leaving my fields spacious! While she did it, I didn't even feel it.... Whereas I had done so much work previously over the years and I had lifted off so much gunk, it looks like most of the gunk was still floating about in my fields and in the places where it'd previously been stored the marks remained. For this reason I had felt no difference within myself and kept myself on the clearing wheel. Chameice managed to help me get off the clearing wheel or rather the clearing conveyor belt. I felt at home right before the end of the session. That night I slept. I was so peaceful; for the first time in years I turned off my computer (I didn't have to put any MP3 on loop), I felt liberated! A few days later I was inspired to launch a Charitable Platform and I am now writing a book! My MEMORY is back! Thank you Eram, for bringing Chameice and all the other beautiful devoted way showers to us. Thank You, thank you, thank you."
~  Anne Hlatshwayo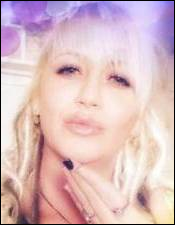 Chameice Daniel is a natural intuitive and channel of the divine. She was born with the ability to see energy signatures in and around people and situations. As a natural intuitive, life was not always easy; she could sense when people were lying, cheating, what people would create with their lives, and knew everything about their relationships. She learned very early in life that most people believe the stories that their culture, society, and families told them about life's "shoulds." What life "should" look like, what love "should" look like, and what they "should" look like. Chameice found it very interesting that these accumulated "shoulds" rarely, if ever, supported their unique soul journey.
I AM REALLY CALM FOR THE FIRST TIME IN A VERY LONG TIME
"If you ever have a chance to work with Chameice Daniel you'll be in not only for a great treat but for such a life changing and empowering journey! Chameice has a very unique approach - she is not just a great healer, intuitive and coach - she is also empowering you every step of the way and teaching you necessary tools that help you know yourself so much deeper. I love Chameice's heart, her energy, wisdom, and kindness 💜💜💜"
~ Angela Raine

I FEEL FEARLESS!!!
"WOW & Thank you. That call last night was amazing. You are a true light worker. I now know what that means to me. Someone who shines so brightly that they need no words. It is their light that shines on our defects & brings out the lessons we need to learn. It is their light that shines on us so that we are inspired to give ourselves permission to step into our full light & become a light worker. It is our choice which way we want to go. The people who instill limiting beliefs with their words are not light workers. They are simply teachers through resistance. Light workers teach through grace & a state of being. I choose to step into my light in order to fulfill my higher purpose to heal the world. I will be the star that I was created from. I release the ideas that were put upon me. I embrace all the light others have shined on me to teach me. I don't need to say anything or do anything to heal the world. I need just be bright & present. Thank you Chameice for teaching me & being an example of how I want to go about the world. Thank you for lighting up my path. Super Love you!!!"
~ Hilary Greer
I FEEL VIBRANT, ENERGETIC AND HAPPY
"So grateful for my session!! Fantastic!! I have felt vibrant, energetic and Happy today! And I have already started taking inspired steps towards My amazing future! I have even felt passionate feelings today! And I booked a seat to go to a musical - important for me! Feels so fantastic in so many ways!! The tools and what you shared has helped me so much already!!! 🙏🏼Thank you so much Chameice!!!"
~ Martina Lennstam
CHAMIECE IS AN ABSOLUTE GEM.. I'M SO HAPPY AND DEEPLY TOUCHED THAT WE HAVE CROSSED PATHS TO ASSIST ME ON MY JOURNEY

"Dearest Chamiece, it is only day 1 after my session with you and I can feel your continued support (thank you) I had some dreams last night about a powerful woman and how I grasp the lightening shooting from her hands, whilst just before that I was doing and shown how to work together to uproot a tree root with a hand full of other woman... team working together! I was releasing the program and embracing the way! I have also been feeling the great importance and gift of idea that you so graciously passed on to me.. as in within the crystals...the ideas are flowing.. "including grid working" the visions and flashes of ideas flowing with signs so easily read ( 1 example.. someone passed me an item in a shop which had the word Hopi lol)"yes I need to go there"!!! Realizing I have already bags of little crystals that I once didn't know what to really use for and how I can integrate crystal gridding with my spirit dancing! You are an absolute gem and I'm so happy and deeply touched that we have crossed paths to assist me on my journey... like spirit sisters that assist each other on and within all our individual paths and journeys on earth or where ever else and in whatever time that exists.. it is a great honor crossing paths in this time with you 💜💖💜💖💛💛💛💛💛💚"
~  Sherene Judd
YOUR WORDS RESONATE AND FILL ME WITH HOPE

"Thank you for my session, Chameice. I've already begun to implement one of your suggestions. I signed up to spend a weekend learning 5 different crafts at my former college. I'm looking forward to more creative experiences - and am especially grateful for your continuing support over the next 21 days. I can't thank you enough. Your words resonate and fill me with hope."
~ Germaine Kritzer Koomen
THANK YOU FOR HELPING ME TO REALIZE MY PURPOSE.
"Wow!! What an insightful one on one I had with Chameice yesterday. Thank you so much for the guidance. I'm so happy and excited for what the future will unfold for me. My heart space thanks you and thank you for helping me to realize my purpose. Much love and appreciation 💕💕"
~  Sandy Teichert
THIS WAS ONE OF THE MOST POWERFUL MEDITATIONS
"Hi Chameice, I loved the call today. When we were with Kali Mah in front of the fire -- she was looking at me and then said and led me to the fire-- walk in and sit in the fire and release it all -- all the past, the childhood, the loves, the losses, the winnings all everything that is no longer you-- sit and watch it burn out of you and release it all -- it no longer serves you at all. This was one of the most powerful meditations. Also when we met with our High Priestess within us and she handed back the flowers -- there was an open check from the Universe. I see this as a positive sign that although I need to slow down and ask and wait and receive -- I am on track for my new business. The Tibetan singing bowls are supposed to arrive on Wednesday however the New England area is due for a snowstorm Tuesday -- this will delay delivery. I still have to find a place that will be willing to allow me to give 10 free sessions for my certification too. I have requested an answer to that and feel in my bones that it will come when the bowls actually get here. Love this meditation! This was great work on the Full Moon and I really feel different even more so now. I am planning on a nurturing sea salt / lavender bath to relax and release lingering energies so that I can meet tomorrow fully released from that which no longer serves me! Gratitude abounds! I thank Kali Mah and my High Priestess and you! Thank you Thank you Thank you!!! I am so grateful!"
~ Sandhya D. Srivastava
THE HEAVINESS AND FUZZINESS THAT I HAVE FELT FOR YEARS, HAS LIFTED RIGHT AWAY!!!
"It's been two weeks since I had my one to one session with Chameice. It's taken me all these days to figure out how best to share my experiences following the session but, here we go: I am just so grateful and excited to say that I am now consistently more relaxed & peaceful with less anxiety & stress. My mind is much more quiet and my spirit is light.
I truly feel lasting moments of Pure Stillness and Mysterious, Joyous and reassuring sparks of "being at Home. "The heaviness and fuzziness that I have felt for years, has lifted and I felt the lift right away! I occasionally feel teary but I get warm tears of relief not the burning dry tears of despair and confusion. I bet I won't ever have to mention them "D" & "C" words ever again... but I had to bring them up just to acknowledge them for while I knew what they made me feel like, I now can tell the difference between emotional prison and Pure Love xx. Thank you"
~  Anne Hlatshwayo
YOU CAME IN NOT AS A HEALER, BUT AS A FRIEND, WHO KNOWS, WHO MENTORS
"I had a session on Friday night and you left me with powerful insights, and thoughts about the situation regarding my love life (I still wait for the things to unfold, but I already feel empowered). In many weeks, I slept well. I don't know what you did, but the next day I felt LOT better.
You came in not as a healer, but as a friend, who knows, who mentors. I love it when you help with your keen insights to genuinely help us. Your MP3s are powerful (I have had many releases, and purging, and still came back for) I feel empowered to be "me", and encouraged to shine my light. Many "told" me for the sake of telling - but you guided...and the way you guided was beautiful. SO happy to have found a mentor n friend in you.."
~ Sari Grace
THIS IS 180 DEGREES DIFFERENT
"This is an update of my life's improvements. My Paradigm Shift began when I applied, nearly a week before our one hour session. Because Chameice can see energy flow, she explained why even Lightworkers would blame and "fire" me for problems that were really their own doing. I discussed this theory with professional Lightworkers familiar with the culprits. I finally have a solution and closure for something that's been eating at me for years. I am keeping my energy field clear of other's crud. Chameice calls this "cleaning your own headlights". My "idea balloons" used to be targeted. I now experience positive responses to my intentions. This is 180 degrees different. I dusted off "How to Write a Book Proposal". The next day Balboa Press phoned me with a free 3-month membership to their new Author's Learning Center. Less than a week after I submitted an Astrology article to a MENSA Regional Newsletter, I had two new clients (through a different group!). And my first offer to recommend me to a whole network of people. I am dramatically healthier. I had asthma since a hay barn fire in Dec 2015. I was wheezing and coughing even with an inhaler, OTC cough medications, essential oils, antihistamines, Salt Vault sessions, Healing Touch, and a brief but disastrous attempt to cure it with prednisone. After my session with Chameice I had my first appointment with a new doctor. She prescribed a daily oral medication. I improved 90% within a week. And am no longer afraid I will be sick for the rest of my life. These examples are in response to what I learned from Chameice, because people are now "Seeing" me clearly and accurately. I get appropriate responses to my actions and intentions. I am recognized and rewarded."
~  Susan Bayard Rifkin
I AM CALM, ENERGIZED AND "STAYING IN MY POWER

"I just wanted to express my deep appreciation of the session I had with you. How wonderful you are!! You put me at ease from the beginning and it felt like I was talking to a long tome friend. After the session, my vibration was very high and so was my apartment, I barely felt entities. Till now, I am Calm, energized and "staying in my power "(No more playing small to make other people feel good) as you advised me. I feel lighter and full of hope for a new brighter future. Thank you! thank you! Much Love 💟💟💟"
~ Claudine Kamany
I DO NOT HAVE THE LIMITATIONS ANYMORE!!!

"Wahoo! My 1-1 with Chameice Daniel yesterday was the most powerful I have ever received and I recommend her 1-1s to any and all advanced lightworkers who feel they are not at their full potential. I was attracted to Chameice's FHTJ offer especially this part: "Are you struggling to finally release the drama or pain of the past so you can finally be happy?" which I have been promised many times before, but Chameice actually delivered. Each session is customized to the unique you with the light beings she works with and her "claires" are all right on. She brought up that she saw I was not with a group of my same vibration and offered that there is a soul mate of a match vibration for me at a group using three distinct terms and after our 1-1, I googled those three terms and found there is a group exactly that 15 minutes from my home and I am so excited to go and meet everyone there at this week's meeting! We covered several other issues as well that finally got resolved. Now that I do not have the limitations in place, I will be able to address future things like these myself which is the best result I could hope for in my healing. I am impressed that this is something that apparently is the same for everyone that has a 1on1 with Chameice as she said she specializes in advanced light workers and usually does not need to see them more than once but loves to hear from them on their new love, joy, and power. I share this with you not because Chameice Daniel RH asks her clients to share their experience, but because I am so excited about not just how much better my life experience will be but how much more helpful I can be in serving Earth/Gaia without the limitations in place and wonder would it not be awesome if ALL light workers were flowing in their full potential and power? What a wonderful, wonderful, wonderful world this would be....."
~  Melinda Dixon
AFTER MANY YEARS, I FINALLY FEEL I HAVE A SENSE OF PURPOSE
"Thanks for the wonderful, clarifying one on one session today. It left me feeling light and joyful more than if I had won a million dollars. After many years, I finally feel I have a sense of purpose as the "missing part of the puzzle" was put in........Thank you for your awesome gift...............much Love"
~ Stephanie Davy
" I appreciate your words of wisdom, that forgiveness is a kind of soul-retrieval. And that we need to feel, what works for us!❤
I experienced several teachers, who taught that their way - is the Right way..."
~  Anna Ferrero
I FEEL SO OPEN TO MY CREATIVITY. IDEAS ARE MOVING THROUGH MY HEAD
"Chameice, I just wanted to thank you for the 1-1call work we did. I feel so open to my creativity. Ideas are moving through my head even for my job and also for the ideas of a new business! You are fantastic. I so appreciate you! Many blessings and love!!!!"
~ Sandhya D. Srivastava
TENSION & CONFUSION WERE RELEASED & PEACE TOOK OVER

"I had a session with Chameice Daniel & boy is she sweet!!! It was just like reconnecting with an old friend after a long time. She listens attentively and as she works on the issues, you can actually feel it on the physical body. She reignites your full trust in Miracles. During the 60 mins session, much tension & confusion were released & peace took over. You are such a Blessing to the world Chameice Daniel. Bless you for sharing your Blessings with me & the world.💕❤️💕💕❤️"
~  Agnes
CHAMEICE IS "THE LIFE COACH FOR LIGHT WORKERS!!! I GOT A FULL TANK OF THE CORRECT OCTANE OF EMOTIONAL FUEL
"I believe that Chameice Daniel is "The Life Coach for Lightworkers ". I feel as if I finally have an "Owner's Manual" for my past, present and future. And it has a troubleshooting section ! Chameice understands how things really work, and was able to explain my life to me. Working with Chameice Daniel is a cost effective investment in having a Paradigm Shift for your life. Chameice leads off Eram Saeed's talented healers for the LOVE Global TeleSummit. Our session included Twin Flame insights, and that I had not yet met mine, and what our relationship could become. I read her website to prep for my appointment. The beautiful singing instantly made me feel better. I downloaded her free ("easy peasy") "Steps to manifesting ALL you desire". And listened to the "Love Reflections" guided meditation. It would have been difficult to choose which one of the 4 types of sessions she offers. I am amazed and grateful to Chameice Daniel and Eram Saeed, that my appointment was for the extra special four-in-one combination! Even before my one-hour appointment, I noticed things in my life were changing for the better. Chameice is clear, direct, kind and generous, and has a great sense of humor. I instantly felt I was relaxing with a congenial and trustworthy mentor. And I got a full tank of the correct octane of emotional fuel. Chameice met me where I was. She was careful to figure out what I already knew, so that her explanations made sense to me. And she filled in some huge gaps I was not even aware of. I confided that I was lonely because several friends had "fired" me after I responded to their literal calls for help. I was sad, angry and confused. Chameice was helpful and humorous. She said that when people try to resonate with my higher vibration, they purge their lower vibration behaviors. But detoxing too rapidly is like the Herxheimer effect. And they blame me for how they feel. She taught me how to adjust my energy level like a dimmer switch, to keep it within a comfortable range for them. And cautioned that if their purge is too difficult it can result in depression or suicide, which I had seen. She counseled: They try to get you to take out their garbage for them. Your role is to tell them, "here is the trash can so you can throw out your own garbage". Chameice explained my Past and Present lifetimes in terms of my challenges and life purpose. She explained that I am a Starseed, with a multi-lifetime assignment to Planet Gaia. And described my role as one kind of Grid Worker. Which is why I rarely travel, and studied physics. Grid Workers shine a bright light, thus attracting some of the darkness and junk from the collective consciousness. This puts a film over my energy. So Chameice added energy to several of my chakras. She recommends weekly clean ups, so I can more easily stay in my own power, and repel the myriad of health issues. She laughingly agreed with my analogy. I used a powerful solvent to remove layers of damaged plastic that dimmed my "new" 10 year-old car's headlights. I learned that after I resume my true role and finish writing my book, then Abundance will respond. I was doing the opposite by trying to fix my finances first. Thanks to Chameice I feel I have a map and a compass. Now I am more confident as I select and set my course for navigating my life, as Captain of my Own Ship."
~ Susan Bayard Rifkin
I FEEL A BIG SHIFT IN MY WHOLE ATTITUDE

"Before the call I was feeling very down and after the call I felt a new sense of hope. Chameice brought up my energy for my solar and sacral chakras from 2% to 40%. She removed beings from my space and grounded me. She gave me a lot of tips on how I could keep my energies up and she gave me insight on what I thought was ADHD in me was really PTSD symptoms. The ease of speaking with Chameice and how she explained everything I was going through and how to take care of myself moving forward was so easy to understand. Thank you so much for the opportunity….."
~  Patty-Loraine Simo'n
I FEEL CALM, FOCUSED AND EMPOWERED
"A few days ago, I had my first VIP Backstage Pass. Excited to at last be gifted with a session, I chose my date, 17.01.17; leaving all expectations open, to allow the energies of the day to guide the communication. The generosity came from Chameice, an intuitive energy healer, NEW to FHTJ. I connected easily and quickly to her friendly and vibrant nature, and as the topic would be my choice, it was directed towards my financial and career story. Actually, quite a long story, but to cut that brief, Chameice could direct healing energies to my sacral chakra and solar plexus, which needed opening and grounding. I had sent a recent photograph just prior to our session, so she could tap into my energy field. No abundance blocks! Having been in a stale unhappy marriage for many many years, I had expected things pick up rapidly after he finally left in September last year. Surprisingly, I actually lost work! This, she explained, was because Spirt is allowing space for me to think and create my dream life. To move from surviving to thriving! Her guides communicated " writing". There is something I need to write, or do that concerns writing. Instinctively I know that in the process of writing, my dream vocation will manifest. Chameice will do energy work on me for the next 2-3 weeks. I promise to write whatever comes up during this time. Synchronicities then show up, once our path is opened. Now day 5, I can honestly say I feel somehow different. Truly! Something has happened. I feel calm, focused and empowered, despite the pile of unpaid bills and a reduced income, and a deep knowing......I am ready for the shift of my life! Thank you Chameice"
Below Introductory Prices are for Limited Packages Only!
This is not currently offered anywhere else and will never be offered again at this price.
Discount : 83%
Total Package Value $586
From Heartache to Joy
Introductory Offer
$98

2 Abundance Code Instructional Videos

SoulFull Activations FB Group

Discount: 96%
Total Package Value $3,550
From Heartache to Joy
Introductory Offer
$148
2 Abundance Code Instructional Videos

SoulFull Activations FB Group

3 Live Abundance Activation Group Calls with Q&A

3 Months of Remote Abundance Energy Infusions

Discount : 95%
Total Package Value $4,326
From Heartache to Joy
Introductory offer
$208
2 Abundance Code Instructional Videos

SoulFull Activations FB Group

3 Live Abundance Activation Group Calls with Q&A

3 Months of Remote Abundance Energy Infusions

2 x 30 minute one on one session with Chameice

DISCLAIMER: The information on this site is not intended or implied to be a substitute for professional medical advice, diagnosis or treatment. All content, including text, graphics, images and information, contained on or available through this website is for general information purposes only. Please see a medical professional if you need help with depression, illness, or have any concerns whatsoever.
WE DO NOT OFFER MEDICAL ADVICE, COURSE OF TREATMENT, DIAGNOSIS OR ANY OTHER OPINION on your conditions or treatment options. SERVICES OR PRODUCTS THAT YOU OBTAIN THROUGH THIS WEBSITE are for information purposes only and not offered as medical or psychological advice, guidance or treatment.
CONSUMER NOTICE: You should assume that From Heartache To Joy has an affiliate relationship and/or another material connection to the providers of goods and services mentioned on this page and may be compensated when you purchase from a provider. You should always perform due diligence before buying goods or services from anyone via the Internet or offline.
REFUND POLICY: Please know that in order to honor the Law Of Energy Exchange, all exchanges need to be fair energetically. We love and honor all of our valued listeners and speakers. We are happy to offer a hassle free, 30 day Money Back Guarantee to our customers to help them decide if a certain product works for them or not. However, in order to honor our speakers and their hard work we can only offer refund on one package for every customer per 90 days. Multiple refunds by same customer within 90 days will not be accepted. If speaker's offer involves personal sessions, then guarantee will be voided if the session has been availed. Additionally all refund requests should be sent within the 30 day guarantee period. We thank you in advance for respecting the energy exchange.
Copyright © 2017 - Eram Enterprises Inc - All Rights Reserved