Release Astral Entity Attachments NOW!
You are a Being of Infinite Light and Power and you have the right to be Free from all astral entities and wayward spirit attachments and astral parasites including those that have carried through your Ancestral lines
YOU hold the Power to Free yourself from interference from Negative Entities, Wayward Spirits and Psychic Attack
Entities feed off of Fear and low frequency emotions and the human beings on this planet need to have this information now as we are all here as Light Bearers to raise in consciousness and truly be free to live who we came here to BE
This is a must have program for anyone that wishes to clear themselves, their loved ones and environment of astral entities, psychic debris and wayward spirits safely and effectively
Learn what entities are and how you know if you have one or more attached to you or your environment
Clear Negative Astral Entities, wayward spirits and negative attachments from yourself, your loved ones, your home and environment and see your life improve exponentially!
Discover how to empower yourself and keep your energy field and environment strong and resilient against entity attachment
Connect with your Higher Self and release astra parasites
Discover how to "Call on The Crew" of Guides, light beings and angels to support you and dispel any and all entity attachments and wayward spirits
Release yourself from astral entities that have travelled through past lives and Ancestral lines and attached to you
Receive simple yet powerful methods that will shield you and keep you and your home free from entity attachment
Bonus MP3's to release attachments from yourself, your home, your family and environment. Includes Meeting The Light Team! This is a powerful recording which is intentioned with Sandra's Guides and Light Beings who come to assist in releasing wayward spirits and clearing negative entity attachments and psychic debris whenever you play it.
If you have been feeling any of these symptoms you may have a negative entity attachment.
Headaches and unexplained aches and pains in your body
Mood swings and behavior changes
Depression and sadness
Unexplained anxiety
Thoughts that do not seem to belong to you so you have "not been feeling yourself recently"
Emotions that do not seem to belong to you so you are "not sure what is wrong"
You have been working on raising your consciousness yet it still seems as though things are not working out for you
No matter what you do there seems to be no change in work, business and finances and you feel you cannot move forwards in life
Addiction to drugs, alcohol, gambling and you feel that you cannot break free
Relationships are difficult to sustain and always seem to 'go wrong'
You are entangled in an unhealthy relationship yet no matter what you do you feel powerless to leave it
Unexplained happenings occur in your home and environment
It is time to take back YOUR POWER and Stand in The Light!
This is a subject that has been hidden from Humanity. We are in a time of AWAKENING and what many people do not realize is that astral entity attachment can be the cause of depression, anxiety, addiction and even physical pain, and by releasing these astral parasites your frequency will raise and life will improve on all levels. After the entity attachments have been released many people report they feel free, they feel themselves again, and that their symptoms and addictions have miraculously disappeared. This is not a diagnosis of medical conditions by any means, but it is a very real phenomenon in our world and more common than people know. It is time we awaken and realize that we are multidimensional beings who are existing in multidimensions, and some dimensions hold low frequency energy that can and does cross over to this dimension attach to people, environments.
There is a thinning of the veils between the dimensions that is occurring in this momentous time of raising consciousness and this is affecting all of us in this world and in other dimensional worlds and astral entities are bleeding through affecting many people. And because this is a subject that is hidden in society they are able to affect you without you knowing!

Just because they are invisible does not mean that they are more powerful than YOU they are NOT!
So what can you do about it?
You can discover what negative entities and wayward spirits are and dispel them from yourself and your environment.
You can learn how to recognize when a negative thought form, emotion, attachment or wayward spirit is interfering with your life
Learn powerful tools that will enable you to clear yourself, your loved ones and environment safely and effectively.
You can empower yourself to dispel these low frequency attachments with the help of your Higher Self, Guides and Beings of Light and release them with the Highest Good of All Concerned
You can continue to keep yourself and your space clear from further negative astral attachments.
Connect with Sandra's Crew of Light Beings who will join you in clearing negative entities and attachments from your space
Sandra has created this incredible transformational power packaged Package for You!
A powerful and transformational Group Tele-Class on astral entity attachment and releasing yourself, loved ones and environments from low frequency thought forms, emotions, negative entities, wayward spirits. You will discover tools to keep yourself and your environment crystal clear and immune to astral parasites

The package is an introduction to entity attachment and clearing yourself, loved ones and environment. It will empower you to release all negative entity and wayward spirit attachments and discover tools to keep yourself and your environment clear and clean from low astral frequencies, using the powerful Reiki Symbols that are given together with tools to empower yourself to Stand in the Light.
The collective power of a Group entity clearing will dispel negative energies, entities from your space.
PDF supporting materials that you can refer to when you need a quick reference guide to clearing negative entities from yourself, loved ones and environment.
ORDER PACKAGE A
2 Recorded Live tele-classes + PDF with information on how to recognize, body test and clear negative entities, astral debris and wayward spirits from yourself, your home and your loved ones + 6 MP3's for Clearing negative attachments
From Heartache to Joy Special Offer $99
ORDER PACKAGE B
2 Recorded Live tele-classes + PDF with information on how to recognize, body test and clear negative entities, astral debris and wayward spirits from yourself, your home and your loved ones + 6 MP3's for Clearing negative attachments + A mini entity diagnosis and reading through email
From Heartache to Joy
Special
 Offer $127
This Collective Gathering of Light Bearers together standing in the Light will make an enormous clearing for all who listen to the MP3 Replay
When clear from negative entity attachments, psychic debris and wayward spirits you will find that life changes, finances change, addictions will have no hold on you, unexplained pain will leave your body, negative thought patterns will turn into positive thinking and more optimism. Your frequency will rise to a higher vibration and life will take a more positive outlook and transform.
90 minute recorded Group Teleclass
90 minute recorded Group Teleclass infused with the energy of Light Bearers and Sandra's Crew of Light. Experience clearings as they happen, in yourself, your home and with your loved ones.

60 Minute recorded Group Teleclass infused with the energy of Light Bearers and Sandra's Crew of Light. Experience clearings as they happen, in yourself, your home and with your loved ones.

These live teleclasses are full of information on how to empower yourself to remove negative entities and attachments from your life that have been holding you and your loved ones back from peace, joy and happiness.

These tele-classes are transformational as you learn to free yourself and others from negative entity attachment and keep yourself crystal clear now and in the future
In this special Recorded Group class, you are going to :
Discover what negative entities are and how to safely and effectively release them
Learn how to check yourself for negative entity attachment
Recognise how entities enter into your energy field and what to do about it
Receive tools to empower you to clear and clean your energy field including powerful Reiki symbols that you can use on yourself, your family, your home
Learn how to maintain a high frequency environment free from negative attachments and entities.
Release yourself and others from negative entity attachment using the tools that Sandra will give to you during the Class.
Keeping your environmental space energetically crystal clear so that entities cannot lurk there
Learn how to bless and charge water to clear negative entities from your person and from your environment.
PDF supporting document on :
What entities are
How you attract astral entity attachment
How to keep yourself and your loved ones clear of negative entity attachment
Receive and activate powerful Reiki symbols that will clean and clear negative entities
Receive simple yet powerful tools to enhance and empower you and your families ability to stay clear of further attachments
Special section for sensitives, empaths, energy workers and Light Bearers who pick up negative thought forms and emotions from other people, the environment and can be especially prone to negative entity disturbance
Live recordings of high energy client and group sessions
Intentioned with Sandra's Guides and Light Beings who work with her on clearing entities and wayward spirit attachments. Whenever you play this recording they will come to aid you in clearing yourself and your home from entities and negative spirit attachments. This is a powerful audio that will clear negative entities from your space.
Hour long audio on how to stand in the light when you have astral entity attachments and wayward spirits disturbing you and your life. Introduction to what will be learned in the Group Tele-Class. How to use the Reiki Symbols and other tools for dispelling psychic debris, low frequency entities and wayward spirit attachments.
Check for Entity Attachments
Prayer for Wayward Spirit Removal
This is a powerful prayer specifically for sending Wayward Spirits to the Light. Calling on your Higher Self, Guides and light beings together with Sandra's Guides and Crew of Light, you will be empowered to release wayward spirits from yourself, your home and your loved ones, sending them back to The Light.
Releasing entities from Ancestral Lines
Receive a powerful clearing to remove entities carried through your ancestral lines through energetic attachment and curses. This recording is infused with high frequencies that allow release of negative attachments and wayward spirits that have followed through your ancestral lines and are affecting you and your loved ones.
Release from psychic attack
Astral entities are more common than people realize, they feed off low frequency energy and fear which is has become so common on our world that anxiety and depression have become 'the norm'. Yet these entities remain hidden and unrecognized because people are not taught about them or what they are. This program will teach you to recognize whether you, your loved ones or your environment have negative entity attachments. And what to do about it.

You will be empowered to clear negative attachments from yourself, your loved ones, your home and household objects using simple yet powerful tools that have stood the test of time, together with Sandra's Crew of Light Beings and Guides who assist her in her work and will come to your assistance whenever you call for them.

You hold the POWER!
From Heartache to Joy Special Offer $99
Includes everything in Package A Plus
MINI ENTITY ATTACHMENT DIAGNOSIS (via email)
Are you concerned that you have an entity attachment or astral debris that is floating around your energy field and causing you to feel heavy, tired, fuzzy brained, or even causing pain in your body?

Find out whether you have entity attachments or psychic debris blocking your finances, ruining relationships, causing addictions, causing pain, creating mischief in your life.

This Mini Reading is only if you purchase the package B. Please send your order ID to ensure you receive a response.
From Heartache to Joy Special Offer $127
Entity Removal over the internet!
"We contacted Sandra after spending time with her on retreat. We had a horrible intrusive spirit in our house that was switching lights on and off, lighting gas on the stove and becoming frightening. Even my mum who does not believe in the afterlife actually saw the entity passing in the corridor. When Sandra came online the entity tried to stop the computer working and was trying to stop her speaking with us. She did a clearing on the computer and told us what we needed to do. Sandra did a total clearing of the house even though she was in Bali and we were in Australia. The spirit has not returned since and all is quiet again. We are amazed at how quickly Sandra moved the entity from our home. We are eternally grateful and so appreciative that we are able now to have peace again. Thank you."
~ Jess and Paul (Australia)
"Hi Sandra, I think your wayward spirit audio must be good because I played it again when I was with my sister today and she went from crying and not wanting to live to having hope and recounting happy memories from childhood. We are going to look for a senior type apartment for older people (she's almost 55) because she's more comfortable there and other support systems to help. No need to respond to my earlier email. I know that I can use the audios around her with the sound off and your crew of light will be there to help. Thanks again, Sandra. Your tools are amazing!"
~ Love, Kismet (USA)
"Also wanted to tell you about my 3 cats. They are 4 and 5 years old and have practically turned into kittens since your most marvelous Crew of Light has visited and helped us all so much in the divine clearings. This may sound strange but I am dealing with the wayward natives a little at a time as I feel a more appropriate time is coming? I cannot quite understand it yet but I try to follow my instincts. Meanwhile they are misbehaving a bit and I think of how you very calmly and giggly deal with this. I have such a tendency to get soooooo frustrated, so now I picture how you do it. Thank you for being on the planet with us I think I always knew I would find souls like you. "
~ Very sincerely Kim, my hubby and the kittens
"Dear Sandra,
Thank You So Much!!!
I'm in Awe and Gratitude!
Everything is Shifting.
My Mother seems to get lifted and i can leave her at her path.
theres a growing feeling of peace in our family.
i can hold my energy at work around 75% increasingly
i am so motivated to find a new job out of survivialmode into what would i love to do and am so motivated to writing new applies!
i feel uplifted and light more and more
yes and with the new man it will work out as it has to i am neutral about it.
i will integrate this as toothbrushing in the morning.
i love spending time with the replays it is a time of grace for me.
i feel so blessed and worthy.
thank you Sandra for your genourous e-mails and your gift!
Much Blessings to you and i'd love to come back for a session with you when there is need.
in thankfulness "
~ Monika (USA)
"HAVE A 1 YEAR 7 MONTHS SHUTZU / MALTESE SMALL DOG, HE WAS ALWAYS SINCE I HAD HIM, AT THREE MONTHS OLD, HE WAS GOING WILD AT NIGHT, EFFECTING MY SLEEP AND THE NEIGHBOURS ESPECIALLY WITH HIS BARKING AND HUMPING MY LEG, WAS AGRAVATING, IT WAS AS IF HE WAS POSSESSED BY SOMETHING OR SOMEONE, VERY AGGRESSIVE AND SNAPPING AT ME ONLY AT NIGHT JUST BEFORE GOING TO BED MY DOG HAD THIS TERRIBLE BEHAVIOR ONLY IN THE BATHROOM ONSUITE AND THE BEDROOM . WELL, IN THE MIDDLE OF HIS USUAL BAD BEHAVIOR I SHOWED HIM THE DAI KO MIO SYMBOL AND HE TOOK ONE LOOK AT IT SAID GRR ALMOST IN A WHIMPER AND TURNED AROUND SHOWING ME HIS BUTT AND TAIL AND JUST STOOD THERE WITHOUT A SOUND. i THEN MUSCLE TESTED TO CHECK IF THERE WERE PORTALS OF WHICH I GOT THE ANSWER YES 3 IN THE BEDROOM AND ONE LARGE ONE IN THE ONSUITE ,THE WALL THAT IS MIRRORED, MUSCLE TESTED AS A PORTAL, SO THEN WHAT I DID WAS TO WRITE OUT ALL TH TARA MANTRAS ON THE MIRROR IN SOAP IN LARGE LETTERS SOAP WILL WASH OFF THE MIRRORS. AND I PUT THE DAI KO SYMBOL IN THE BEDROOM AND KEPT SHOWING IT TO HIM IT TOOK MY DOG A FEW REPITIONS OF SHOWING HIM THE SYMBOL. TO CHANGE HIS BEHAVIOR, THE BEDROOM MUSCLE TESTED AS HAVING 3 PORTHOLES, SO I ALSO WROTE OUT THE TARA MANTRAS AND PUT IT BESIDE ONE OF THE PORTHOLES IN THE BEDROOM WITH THE DAI KO MIO , MY DOGS NAME IS PARKER. WELL FROM THAT DAY ON IT WAS A 360 DEGREE TURN AROUND FOR PARKERS BEHAVIOR, HE HAS BEEN ENGELIC EVER SINCE INSTEAD OF THAT MENACING AGRESSIVE DEVILISH BEHAVIIOR OF BARKING LOUD AT NIGHT NOT EVEN A SOUND HE JUST WANTS TO BE NEAR ME AND I CUDDLE HIM, THERE IS PEACE AND LOVING FROM HIM NOW, JUST I LOVE THE NEW AND IMPROVED PARKER. SO I FEEL AND SEEN FIRST HAND THAT THESE TOOLS REALLY DO WORK I HAVE WHITNESSED THIS MIRACULOUS EVENT TAKE PLACE BEFORE MY OWN EYES, I AM TRULY GRATEFUL TO YOU, YOUR CREW AND ALL THE SPIRIT GUIDES MINE AND YOURS WHO PARTICIPATED IN THIS EVENT THANKYOU FROM MY HEAR T TO YOURS. "
LOVE AND BLESSINGS WITH LOVE AND LIGHT
~ ASHLEIGH STEINBACH, FROM SURREY B.C. CANADA
"Hi,
I just wanted to give you my feedback about the session I had today with Sandra.
I purchased the package for Sandra St. Yves and scheduled my one-on-one session. About 3 days before the session I started having so much anxiety and resistance and excuses not to do it that I wanted to cancel and not go through with the healing session. I am so happy I didn't cancel and kept my appointment. This was the best healing session experience I have ever had in my life!!! I brought a full bag of "old unresolved junk" to the session and Sandra didn't just take care of one thing that bothered me, she took care of ALL the junk that I had inside in that short period of time. Sandra is just so wonderful, kind, knowledgeable, very intuitive and loving! She made me feel so good, was spot on accurate on so many issues up to the detail with exact ages and situations that occurred. I felt amazing after the session! I loved it!
Thank you, thank you, thank you Sandra for all your love and assistance!!
"
~ Angela
"I have a lifetime of feeling heavy and serious and went to Sandra out of interest after many friends recommend her to me. My private life has been difficult and trauma and bad luck has followed me throughout my relationships which begin happy and pretty soon end up tumultuous and fighting. I am a peaceful man and this was very difficult for me to deal with. While we talk I could feel that a heavy cloud surround me and the air feel thick and heavy, I feel the entities around me. There was sudden release and I felt light and the air was clear. I felt like many lifetimes of heaviness leave me. I felt the lightest I feel in my life, I feel euphoric like I was given light from the inside out. Now I feel happy and less serious, since the entities left I met beautiful woman, also peaceful and we are very happy. Thank you Sandra a million times. An experience of a lifetime."
~ Georgio (Russia)
"I am a healer and teacher married to an Indigenous man who comes from a long line of shamans. I came to Sandra after our relationship was taking a downward spiral and the 'Ancestors' were attacking us so that we could not have children together and our life was becoming more and more dark. She exorcised the demonic forces that had been sent to us, working on me and through me she released the demons in both of us. We are now very happy, my husband feels free to do his healing work, I also feel free to do my healing and teaching. Things are getting better and better, business is booming. Sandra is an amazing energy worker who works in the light like an angel from heaven. I cannot give enough words to say how she has changed our lives since the release of the entities."
~ Louise (NZ)
"It's with gratitude that i had a very powerful session of entity removal with Sandra. She helped me locating the etheric attachment, identifying them and the cause of their presence in my field and gently removed the entity. Her description of the entity and the cause of it was very accurate, and identical to what I've witnessed and felt when the etheric parasite has attached itself to me. The session was not scary at all yet very powerful. in the week after i went through a cleanse process and was feeling much lighter and freer. Deepest gratitude and love to you Sandra."
~ Fida
"I had an unfortunate experience of picking up an unwanted guest while on holiday and for days I sensed something heavy and dense around me. At the time, my brain was unclear, my body was in a state of lethargy and I was having numerous bad dreams that shook me up.
Having practiced Reiki and other healing modalities for numerous years, I tried energy clearings on myself yet the energies were stuck and heavy, in particular in my lower spine area, so I made an appointment with Sandra for a clearing.
Sandra could feel a cord placed from my third eye all the way down to my sacral chakra, which she worked on. A wave of lightness washed over my body when she pulled this from me and I felt instantly relieved, back to my optimistic self again with a clear mind and pain free body.
I have since wondered how many people are walking around unawares that they are carrying unwanted entities in their field and how easy it is to have them lifted with the help of someone as gifted as Sandra. I'm so grateful that I followed my intuition and found this remarkable woman who could lovingly support me though this experience."
~ Tina
"I am a regular client of Sandra and her ability to transcend integrated and irrational thought process is one of her many talents. My partner has struggled with depression and addiction issues for years and had tried both mainstream and alternative avenues. He had been in a "rut" and unable to bounce back from a vicious cycle that had left him energetically despondent- no exaggeration!! Although at first he was hesitant (and a bit skeptical-although he will never admit that now!!) about his first healing session, he almost couldn't get to his second session faster!!! Sandra removed entities that had been holding Steve down for years. After the first session I noticed a tremendous change in him. He seemed lighter, more at peace with his past, and in general his aura was noticeably brighter. His relationship with substances had also changed in an astounding way. After his second session, I have noticed a complete rededication and commitment to his life and people and light in it. There is no doubt Sandra's removal of entities made this possible through her energy work and entity removal. Thank you Sandra. You are an angle and a blessed worker of light on this planet. The world is so much kinder with you in it."
~ Maggie Betts (USA)
"For many days I could feel my spirit leaving my body and being taken by dark entities sent by a woman. I was desperate and terrified, I could feel my Spirit being pulled out of my body and I was losing energy daily. I had a personality change and was anxious all the time, I knew I was dying, every time I closed my eyes or tried to sleep I found myself in a long tunnel where there were spirits waiting to take me over to the other side. My husband didn't know what to do with me and finally took me to see Sandra. As she worked on releasing me I could literally feel the entities leaving as she removed the curse and the darkness. Within minutes I felt myself again and felt light and clear again.
My husband is so grateful for having his wife back. My spirit is no longer being pulled out of my body. I cannot thank her enough for removing the darkness and giving me myself back again. "
~ Marianne (Sri Lanka)
"I took my partner to Sandra when he was becoming aggressive and difficult and could not stop drinking alcohol. He was drinking from the morning into the night and I was going to leave him as I could not stand it anymore. I went to see Sandra first and she could feel that he had dark spirits and entities around him. He eventually went to see her after much persuasion. I don't know what Sandra did but he came back a different man! He stopped drinking all day, he is helpful and considerate and we are looking forwards to a new future together. I thank her every day for releasing the darkness from him."
~ Jane (USA)
"I had a session with Sandra, not so long ago.
It was a powerful session, firstly she cleared always some entities that were blocking me in many areas of my life. The following day I found some money on the street. That has never happened to me before!
More importantly I am very close to my brother, however Sandra picked up that my my sister in law was making it difficult for my brother to see me, she also picked up the anxiety that I felt when we spoke about my sister in law and how jealous she was of me. She cleared this anxiety immediately. She also healed a block between me and my brother which helped me to feel lighter. The Following day my brother contacted me and we met up a few days later. I spoke openly about how destructive I felt my sister in law was and how much she hurt me. This is the first time I spoke about this subject In ten years. He then assured me that he would not be influenced by others in future where I was concerned. Result!
I really think that Sandra has something special she is not only very healing but I felt on top of the world after the session, I was on such a high!
I really thought I had experienced a miracle. The following day I went to a barbecue and I met the co founder a major Skincare company, although he is British he spoke fluent Hindi. He said he would give me some advice on my business idea even though he was very busy, I was over the moon. I also have a really good feeling about this guy.
Lastly I would just like to mention that I go to the gym at least four times a week but I still have a stomach after my clearing session with Sandra my stomach flatten significantly I just could not believe it. She said it was the result of having entities removed.
I told my friend Betty about the session I had with Sandra and she signed up for her package immidately. She is very new to the Telesummit world and this is the first telesummit she has ever listened to and first package that she has every bought!
Please bring Sandra back onto the Telesummit soon as she has so many powerful gifts that help to motivate heal and empower women just like me.
Her package is amazing and the clearing soul contracts MP3 has brought me a lot of peace.
Thank you Eram for bring on such amazing speakers."
~ With My Warmest Regards And Love[Name withheld]
About Sandra St.Yves: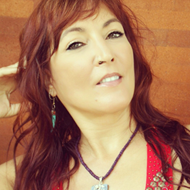 Quantum Alchemist, Intuitive Energy Worker, Transformational Leader
Sandra is a Mystic, Shaman, Direct Channel, Intuitive Guide, Psychic Tarot reader, Coach, Clinical Hypnotherapist, Past Life Regressionist, Founder of Quantum-Transformations and much more!
Many people Seek out Sandra to clear entities and wayward spirits from themselves and their homes and loved ones. She is adept at removing dark forces, astral entities, curses, and wayward spirits from people and environments and has worked and studied with Islamic Mystics, shamans and Balinese Priestess to hone her skills and remove the darkness to bring in the Light.
Recognised Internationally as a Master of embodied Consciousness Technology, she is a Quantum Pioneer, Psychic Guide, Spiritual Alchemist, and Consciousness Leader. With a wide range of clients from A list celebrities and corporate leaders to, sensitives, healers and Light Workers, Sandra is sought after globally for her ability to give clear guidance and make swift and life changing transformations through the Quantum Field.
Sandra has a mainstream background in Psychology and Counselling, and has over 30 years of metaphysical and psychological experience, co-creating with Guides, Angels and Masters of Consciousness Sandra integrates her channeled information with different modalities, working multidimensionally to encompass a holistic approach. Her knowledge includes Quantum Touch, Matrix, Access, EFT, Tarot, Essential Oil essences, Crystal essences, Transformational Meditation, teaching Reiki and more.
In 2006 Sandra had a heart attack at the age of 46 – her birthday in fact. This was a huge wake up call, a message to change the way she was thinking, feeling and living. She had been in the dark night of the soul for many years, sent her guides away and was angry with life, her guides and The Universe for 'allowing' this to happen. The irony is that she was a psychology lecturer, facilitated stress reduction workshops, and taught healing and meditation classes! Yet she was depressed, suicidal and a workaholic.
Sandra changed her life through reconnecting with the voice of her soul, reconnecting with her Guides, Channeling a Collective Consciousness she named Isaac, and mastering consciousness technology. Sandra guides others to do this for themselves and to realise that we all hold the answers to our own lives. She can guide and can psychically see what needs to be changed or facilitated, yet she firmly believe that you already hold the answers to what you need in your life.
Sandra "plays" in the quantum fields of energetics, vibration and frequency and channels these fields for others to experience their own unique transformation that expands out into all areas of their lives.
"It is an amazing feeling to see someone with tired eyes leave my practice with the soul shining out of them and knowing that what they require is all here for them NOW."
Sandra also works with guides, angels, her channel Isaac and beautiful beings of light that enter with the those who come for guidance and transformation. These beings of consciousness are there to facilitate the transmutation of consciousness for their charges. She watches them surround her clients with love and literally with light.
"I feel blessed to have such experience in my life and in my 'work', for how can I call this work?"
Sandra is the founder of Quantum Transformation, an energy technique that integrates energy psychology and working in the quantum field to affect dynamic transformations of the individual. Releasing limiting belief systems, recognizing life themes and releasing emotional, mental and physical pain. She has a strong conviction that she is living her purpose and that we are all here to connect with our hearts and by doing so we learn to enter a peaceful place that enables us to enter into the multidimensional self that we all are.
Sandra integrates her mainstream psychological background with her intuitive energy work, which enables her to come from different levels or areas of expertise.
ORDER PACKAGE A
2 Recorded Live tele-classes + PDF with information on how to recognize, body test and clear negative entities, astral debris and wayward spirits from yourself, your home and your loved ones + 6 MP3's for Clearing negative attachments
From Heartache to Joy Special Offer $99
ORDER PACKAGE B
2 Recorded Live tele-classes + PDF with information on how to recognize, body test and clear negative entities, astral debris and wayward spirits from yourself, your home and your loved ones + 6 MP3's for Clearing negative attachments + A mini entity diagnosis and reading through email
From Heartache to Joy
Special
 Offer $127
DISCLAIMER: The information on this site is not intended or implied to be a substitute for professional medical advice, diagnosis or treatment. All content, including text, graphics, images and information, contained on or available through this web site is for general information purposes only. Please see a medical professional if you need help with depression, illness, or have any concerns whatsoever.
WE DO NOT OFFER MEDICAL ADVICE, COURSE OF TREATMENT, DIAGNOSIS OR ANY OTHER OPINION on your conditions or treatment options.SERVICES OR PRODUCTS THAT YOU OBTAIN THROUGH THIS WEB SITE are for information purposes only and not offered as medical or psychological advice, guidance or treatment.
CONSUMER NOTICE: You should assume that From Heartache To Joy has an affiliate relationship and/or another material connection to the providers of goods and services mentioned on this page and may be compensated when you purchase from a provider. You should always perform due diligence before buying goods or services from anyone via the Internet or offline.
REFUND POLICY: Please know that in order to honor the Law Of Energy Exchange, all exchanges need to be fair energetically. We love and honor all of our valued listeners and speakers. We are happy to offer a no questions asked, 30 day Money Back Guarantee to our customers to help them decide if a certain product works for them or not. However, in order to honor our speakers and their hard work we can only offer refund on one package for every customer per 90 days. Multiple refunds by same customer within 90 days will not be accepted. If speaker's offer involves personal sessions, then guarantee will be voided if the session has been availed. Additionally all refund requests should be sent within the 30 day guarantee period. We thank you in advance for respecting the energy exchange.
Copyright © 2015 - Eram Enterprises Inc - All Rights Reserved