Receive Divine Guidance and Answers to Your Biggest and Most Burning Questions And Feel More Confident and Focused In Making the Right and Perfect Choices For You.
Struggling to Figure Out What To Do With Your Life?
The Message of a Body Pain or Ache?
Want to know if the person you are dating is the Right one for you?
Who Your Main Angel or Guide Is?
If a loved one who has crossed over is okay?
Clarity on relationships?

Advice on next career steps to take?

Insight as to the core of your blocks, repeating patterns and behaviors?
About your most influential past life?
What keeps you from being prosperous and having more money?
What you need to learn from your current relationship or situation?
Why a particular pattern keeps reoccurring?
What is your Power Animal Totem?
How to enhance your creativity, spiritual and psychic gifts?
What exercise is best for your body?
Why you are unable to finish what you start?
Your question here: ______________?
If you have questions, don't we all, and answers are not coming, then this Special Offer is Perfect for you!
Esther Bartkiw has conducted Readings of Divine Guidance for thousands of people across the Globe, including International Government Officials, Multimillionaires, Entrepreneurs, Athletes, Renowned Healers, Scientists, Artists, Musicians, Actors, Moms, Dads, Students, Anyone Who Seeks Information and Clarity In Order To Make Sense of their life situation and Move On.
And now YOU can Gain Access to Esther's amazingly accurate channeled readings.
Equipped with Divine Guidance and Answers to Your Urgent and Pressing Questions, what might be possible in your life?
Are you asking Universe questions and not hearing the answers?

Perhaps you are receiving answers but not trusting them.

Or maybe you just need confirmation that you are on the right path.
Do you want to deepen your Spiritual Connection to Divine Self, Universe, Your Guides, Awaken Your Third Eye, Take Your Ascension Process To The Next Level and need some input on steps to take?
We all need a little help from time to time.

We hit a blind spot or experience a glitch; hit a roadblock in some area of life and no matter how much we meditate, sit in silence, pray, ask our Guides for information it appears there is only Silence.

It can be a discouraging. Creating struggle and anxious feelings as you try to figure it all out.
The struggle and discouragement STOPS HERE.
Esther Bartkiw is delighted and honoured to offer YOU specific, clear and concise guidance, perspective and understanding on the issues most near and dear to your heart. To help you on your Soul's journey and create the life of your dreams.
So What Do You Want To Know?
Get That Specific Personal Question Answered.
Then Meditate on the Information and Set Into Motion What Feels Right To You.
Does he/she really love me?
Where is the best place for me to live energetically?
What is blocking me from abundance?
I have two job opportunities which one is best for me right now?
How can I improve my relationship with my mother/father/husband/child?
What is the message from the pain in my right knee?
How can I connect better with my Divine Self?
My best friend passed a year ago, is she around me?
Do I have Angels around me?
Hello I'm Esther Bartkiw Conscious and Ascension Guide, Facilitator of Energy Processes and Healing, offering you Illumination and Guidance on your Soul's Journey of Ascension. I have been conducting readings of Divine Guidance for thousands of people for well over a decade providing comfort, understanding, direction, encouragement and inspiration to people of all ages across the globe. Equipped with the information that comes forth during readings people are taking charge of their lives and are creating dramatic and magnificent change.
Here's What People Are Saying About Esther's Readings…
After Our Session I Met A Man
"Since my reading with Esther I have been amazed how much of the advice has helped me. I needed to move forward from a love that is my divine mate but could not deal with the intensity of our love. Well the advice I was given was that I needed to move on and not put All my eggs in one basket. They could see that another person would enter my life and it would involve me changing my routine. Well a week ago my best friend convinced me to go out dancing. I work hard and had needed a break. I met a beautiful man who has many of the qualities I have been looking for. The reading helped me so much as I was afraid that by accepting someone new in my life that meant I was turning my back on the love I had for my divine mate. They explained that it was not so and that I needed to live in the moment. All in all I am taking life day by day and appreciate Esther and the gift of knowledge and understanding she has imparted. I recommend Esther to anyone that needs clarity in understanding why life throws us certain curve balls we don't expect."
~ Samantha, Canada
Esther Helped Me Find My True Passion

"It's time to remind you Esther that because of you my life has really been purely a magical transition. For without your sweet reading, I would be struggling and doing things that really I had known for a long time no longer resonated with me. The work with Children is flourishing and I feel younger, happier, more fulfilled and indeed lighter. The Children are reminding me that life really is easy and quite magical when your awareness is truly open and ready to receive. Thank YOU my dear, sweet Esther for daintily stepping into my life at just the right time and showing me the path."
~ Laurel, Burlington, Ontario
In Three Simple Questions I Now Have Clarity

"I pondered contacting Esther for almost a year. Suddenly, last month I found myself signing up for a channeled reading. I posed three simple questions. Questions that were pressing in my life. You see, the past 10 years I have been questioning everything around me; my marriage, my career, my relationships. I worked with a number of personal psychotherapists and counselors all with limited success. I have read numerous books, attended seminars, meditated and prayed for answers. I simply did not understand why things were happening in my life the way they were.
In one short session, Esther managed to bring enlightenment as to why these situations were occurring. I learned why one person in particular keeps resurfacing in my life and why I have this indescribable connection with him and him to me. I could never explain the connection. It defied reason but there he was. Esther helped me to understand the link and now I know exactly what I need to do with that relationship. Thank you Esther you have truly brought clarity to my life."
~ L.M. Mississauga
I Was Skeptical At First, But Now I Am Truly In Awe

"I decided to re-listen to the recording of my reading with Esther Bartkiw and The Beings of Light from back in December. I was skeptical at first, but now I am truly in awe. Your words were full of pure truth, guidance and inspiration. I could not be more pleased with the outcome. Whenever I start to lose hope or feel flustered, I re-listen to the reading and it makes me feel less stressed immediately. I can't thank you enough."
~ Brittney, Grand Rapids, Michigan, USA
I Got So Much More From Our Readings Then I Expected

"For several weeks prior to my reading with Esther I felt like the path I was meant to take was overgrown and out of sight. If only I could find it, I would be on my way. In need of guidance and answers, I booked a channeled reading and got so much more than I could have expected. Esther is a clear and calming guide and the information received was both enlightening and reassuring. There were a few surprises in what I heard, more like affirmations of what I knew to be true but needed help seeing. I was left feeling peaceful at the end of the reading and that feeling continues. "
~ Laurie, Ottawa, Ontario
This Was A Breakthrough Experience For Me

"I feel that the guidance that I received through Esther's email reading has been spot on, encouraging, extremely insightful and exactly what I needed to hear for my personal progression. The reading has enabled me to see my life and myself from a completely new perspective, making me feel as if anything is possible. This has definitely been a breakthrough experience for me and I would recommend Esther's readings to anyone who is feeling stuck or lost in life."
~ Timon, Germany
Guidance Leading To Action and Changes
"I've listened to our reading about 10 times since Monday and each time, I find it more amazing. Thank you so very much for giving me the guidance and insight that you did. I'm already working on making changes to all aspects of my life and I feel so much better about my path than I did before. "
~ Jennifer R.
You too can have a personal reading with me to help you navigate your life situations and create an unfolding of your dreams and desires in your day to day reality. Following Divine Inspiration I created this Special Offer so that EVERYONE receives a 3 Question Email Channeled Reading in MP3 Format whether you purchased Pkg A or Pkg B. How Fantastic Is That!

~ Esther
Discount : 75%
Total Package Value $395
From Heartache to Joy Special Offer
$97
3 Questions Email Channeled Reading By Esther

Three 60 Minute Q&A Calls

3 Energy Processes Created by Esther

Discount: 64%
Total Package Value $550
From Heartache to Joy Special offer
$197
3 Questions Email Channeled Reading By Esther

Three 60 Minute Q&A Calls

3 Energy Processes Created by Esther

25 Minute One on One Personal Session With Esther

3 Questions Email Channeled Reading By Esther
You will receive detailed information on how to submit your questions along with Tips on how to pose your questions to receive the most juiciest and supportive answers.
Three 60 Minute Q&A Calls
Esther will field as many questions as possible.
You can Call In Live or Submit your question ahead of time if you are unable to make the call in Real Time.
Replay and MP3 Recording Available.

Dates:
May 11, 18, 25th @ 12 Noon Eastern Time
**EXTRA BENEFIT: I have discovered during years of conducting readings that when listening to the guidance from other people's queries, your own questions will be answered and/or the information triggers an Ah Ha in some area of your life.

~ Esther
3 Energy Processes Created by Esther
3 Energy Processes Created by Esther during the Program addressing the Top 3 Issues and Concerns As Asked By Participants.
Open Your Third Eye - MP3
This frequency recording was created specifically for the FHTJ community to help you open your Third Eye, your personal portal to inner realms. It will assist you in tapping into your own Divine Wisdom and further expand access to your psychic gifts and abilities, illuminate that which cannot be seen with the human eye and stimulate further enlightenment. All you have to do is listen, receive and follow through on any guidance that presents. My Gift to you. Enjoy
3 Questions, 3 Calls, 3 Energy Processes $97

The everyday pricing for a 3 Question Reading with Esther is $95.

For 2 additional dollars you are receiving 3 Calls and 3 MP3 Energy Processes As a Bonus.
From Heartache to Joy Special Offer $97
*** 75% Saving ***

Includes All of Pkg A Plus
25 Minute One on One Personal Session With Esther
Addressing The Issue of your Choice. Via Web Call, Skype or Telephone with MP3 Recording.

Need help releasing something that showed up in your reading or Assistance with Expanding into that Path of Potential Revealed to you? Then a 25 minute inner work session with Esther is the ticket.

Take your personal transformation to the next level with a private session. Esther is lauded for her ability to get to the core of an issue and make deep change in a short amount of time. During this session one very specific issue will be focused on for exploration, clearing and re-engineering. The result? Harmony. Wholeness. Change from within creating change in your outward reality. It is the perfect add on to an already stellar package of transformation.
From Heartache to Joy Special Offer $197
*** 64% Saving ***

Please Note: The From Heartache To Joy 30 Day Money Back Guarantee is voided once you have received your reading, private session or the first call has commenced whichever comes first.
More Incredible Feedback On Esther's Readings
My Session With Esther Surpassed My Expectations.
"My session with Esther surpassed my expectations. I felt very comfortable asking her Guides questions and the responses were extremely on the mark. Esther's ability to channel and look into past lives is a blessing. I am grateful to have connected with someone with such an incredible gift."
~ SG – Toronto, Ontario
Moving Forward Again With Esther's Guidance
"I have listened to the recording of my channeled reading quite a few times and found the way my relationship was explained comforting. It has helped me to focus on myself and to accept the reality of the situation . I also found the guidance around work and looking at deep held patterns as a way of moving forward. Thanks for conveying the insight. I will be in touch again."
~ Kaye, Australia
I Received Concrete Accurate Information About My Business and Travels
"The channeling work I have done with Esther has been extremely helpful. As a channel, Esther is clear, focused, and does a wonderful job of reporting exactly what the guides are sharing with her. Her readings are incredibly accurate and offer concrete information. During my last session I was given very clear information about a trip I was planning that I had not even considered until they pointed it out. The input helped me to re-examine my plans, and I have never regretted my decision. I was also advised that new clients would be entering my life during that time, and that information also proved to be accurate. Esther's work is done with love and an open heart."
~ Elizabeth P. NY, NY
Esther Went Right To The Core
"Esther is a clear and powerful channel. The information I received from her has been extremely beneficial. The channeling went right to the core of things. Her guides showed Esther how the issue I was dealing with at the time resulted from an unresolved past life. Recognizing where the false beliefs originated made it easy for me to shift out of them. Thank you Esther for bringing the wisdom to me!"
~ Anika S. Bright, Ontario
Reading Created A Turning Point In My Business.
"I want to thank you and your Guides for the advice that I received during my last reading. I have been having some business related issues lately and the guidance I received during my reading led to a meeting that was productive, honest, beneficial and resulted in a real turning point in my business. The reading that I had with you made me more confident in my skills and made me a bigger believer in myself and what I can achieve! I really do believe that there is so much more that I am to do in this lifetime. Thank you."
~ Ontario, Canada
I Have Hope For My Relationship
"In my two private session readings with Esther, I have been amazed not only with the detailed responses to my inquiries, but also with the genuine love that comes through Esther. The reading has helped me to focus on specific vocational skills, reminded me to listen to my heart and given me hope with regard to important relationships in my life. Truly a wonderful experience!"
~ Brenda, Harriston, Ontario
Thank You Esther And Your Guides For The Health Tips and Career Pointers.
"I feel so grateful to have had you and your Guides offer me all of the meaningful information, health tips and other career pointers. Health is a priority in my life and your Guides first statement was how important it was that I take certain steps to remedy a health issue. They even named the product I was to take. The details and time frames offered were also of great assistance. They talked about how I would be adding a specialty area to my career, giving me directions right down to the smallest facts. Your Guides made sense in each area in which they spoke and I am going to listen to their suggestions on a regular basis to enhance areas of my life even further."
~ Liz, Oakville, Ontario
Our Reading Gave Me The Push I Needed
"Thank you so much for your amazing channeled insight. It was extremely helpful and enlightening and was the push I needed. Not to mention the surprise bonus of an energy attunement. What a great unexpected treat and it was just riveting! I'm feeling great!"
~ Kairi Jefferies, New Jersey,
Concise, Constructive, Loving Reading. My Energy Shifted
"Thank you SO MUCH! Our channeling session today was incredibly helpful and inspiring, while at the same time delivering truths that can be hard to hear (to the ego any way) in a manner that was concise, constructive and cut to the issue loud and clear. My energy has already shifted in a way that I'm excited to move forward with all this new input and the various changes that are occurring. Already looking forward to our next session! Sending so much love & appreciation your way, xo "
~ Monet, California
Business Guidance and Courage
"I thank you and your guides for a wonderful channeled reading. The message regarding the marketing of my business makes a lot of sense and I will follow it step by step. Not only does it make sense, it gives me the courage to follow through."
~ Nicoletta, Brampton, Ontario
I Am More Comfortable With Trusting My Instincts
"Today's channeling was the insight and more importantly the clarification and confirmation I needed. Learning that I am becoming more in tune with my true self and intuition getting stronger. Now I feel more comfortable with my instincts and gut and trust it more. That channeling definitely made a remarkable difference in my journey to more consciousness and growth. Thank you and much love."
~ K.J. USA
I Handled Myself Differently At This Mornings Meeting
"The session was so powerful last night!!! The healing is already effective... I felt and handled myself differently this morning at a meeting. THANK YOU and your support team. Be well."
~ Mary Jo, Toronto, Ontario
About Esther Bartkiw :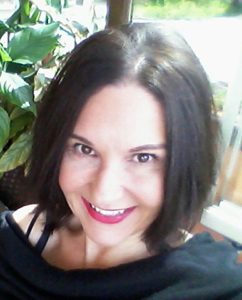 Over the past 13 + years, Esther Bartkiw has been Light Beacon to those on a Conscious Journey of Ascension assisting us in vibrational transformation into our Magical, Miraculous Self. She lovingly reminds us that we are Love and Light, inspiring us to live life as the Divine Beings we are. Her work opens the door to all possibilities and freedom to live the life of our dreams, on our terms.
Esther is extremely intuitive and has been lauded for her extraordinary ability to zero in on the core issue of your problem or situation and guide you to a new connection with your Inner Self, bringing all parts of you into harmony and oneness. People experience change through her Unique Light and Energy Signature, powerful healing sessions, teachings, presence, voice and love vibration. She leads mystical, dynamic Sacred Spirit Journeys which allow people to experience dramatic change and transformation in a short time, while having fun and adventure with like minded people.
After waking up to the awareness that not only did she not love herself, she didn't even like herself, Esther embarked on a journey of falling in love with Self and knowing Self as Love which continues to deepen and blossom every day.
Esther is a featured guest on Tele-summits including From Heartache to Joy, You Wealth Revolution, You Awakening and Quantum Conversations. She has appeared on The CBC's Steven and Chris Show, Gail Vaz-Oxlade Talk Radio; The Best People We Know Radio Show. Esther is featured in the book Women Power highlighted as a powerful and inspirational woman of influence. And is spotlighted in the documentary One Red Lipstick inspiring women entrepreneurs everywhere.
Discount : 75%
Total Package Value $395
From Heartache to Joy Special Offer
$97
3 Questions Email Channeled Reading By Esther

Three 60 Minute Q&A Calls

3 Energy Processes Created by Esther

Discount: 64%
Total Package Value $550
From Heartache to Joy Special offer
$197
3 Questions Email Channeled Reading By Esther

Three 60 Minute Q&A Calls

3 Energy Processes Created by Esther

25 Minute One on One Personal Session With Esther

TESTIMONIALS DISCLAIMER: Testimonials are valid however, all statements or testimonials should not be viewed as a guarantee or promise of results. Any statements have not been evaluated by the Food and Drug Administration. Results can be affected by a variety of different factors that we have no control over
DISCLAIMER: The information on this site is not intended or implied to be a substitute for professional medical advice, diagnosis or treatment. All content, including text, graphics, images and information, contained on or available through this website is for general information purposes only. Please see a medical professional if you need help with depression, illness, or have any concerns whatsoever.
WE DO NOT OFFER MEDICAL ADVICE, COURSE OF TREATMENT, DIAGNOSIS OR ANY OTHER OPINION on your conditions or treatment options. SERVICES OR PRODUCTS THAT YOU OBTAIN THROUGH THIS WEBSITE are for information purposes only and not offered as medical or psychological advice, guidance or treatment.
CONSUMER NOTICE: You should assume that From Heartache To Joy has an affiliate relationship and/or another material connection to the providers of goods and services mentioned on this page and may be compensated when you purchase from a provider. You should always perform due diligence before buying goods or services from anyone via the Internet or offline.
REFUND POLICY: Please know that in order to honor the Law Of Energy Exchange, all exchanges need to be fair energetically. We love and honor all of our valued listeners and speakers. We are happy to offer a hassle free, 30 day Money Back Guarantee to our customers to help them decide if a certain product works for them or not. However, in order to honor our speakers and their hard work we can only offer refund on one package for every customer per 90 days. Multiple refunds by same customer within 90 days will not be accepted. If speaker's offer involves personal sessions, then guarantee will be voided if the session has been availed. Additionally all refund requests should be sent within the 30 day guarantee period. We thank you in advance for respecting the energy exchange.
Copyright © 2017 - Eram Enterprises Inc - All Rights Reserved