A High-Vibrational Path to Healing and Activating Your Highest Divine Essence – so you can meet your Beloved, claim your Mission and step into the New Earth.
There is an Ancient Future Frequency of Universal Love – that once was separated, but is now returning to the planet. It brings the restoration of your Original Human Lightbody to planetary, galactic, universal and multiversal levels and will align you with your Soul's Ideal Life accelerating your transition to Our New Earth.

At the core of the Embody the Sacred package is this new Universal Love which will help you to:
Heal and harmonise relationships
Clear over-giving, and create fair exchange
Restore the sacredness of the body, birth & sex
Restore your original connection to the Divine
Allow the Divine to support you
Feel at home, accepted and safe on this planet
Access all of your gifts - across lifetimes
Connect with your community
Honour your Divine mission
Help Humanity transition to the New Earth
Now, before you go on to find out more about Embody the Sacred, take a moment to consider the following:
Do you want to connect with your Beloved soul-to-soul? Or call in that soul-to-soul connection with a new Beloved? So you can cultivate a soulful, sacred intimacy?
Are you drained rather than energised when you love others? Because of over-giving, family entanglements and not connecting to your core?
Does the lack of sacredness around the body and birth on this planet sadden you? But you're not sure how to heal it, for you and others?
Are you missing that clear and supportive connection with the Divine that you know is our human birthright? And a community to share it with?
Do you believe you are not allowed to ask the Divine for support: money, resources, time and sacred space? Or that it's not spiritual to?
Are you yearning to feel fully safe, at home and accepted on this planet? To bring in all your gifts? And claim your mission to create the New Earth?
Are you ready to reconnect to your deep purpose, with a new enthusiasm – so you can light the way for others, as you promised long ago?
If you are - continue reading below to see what level of Embody the Sacred is calling to you!
Empty-Nesters rekindle their youthful passion and start having FUN!!!
"So we did have a wonderful weekend both relaxing and fun. Got in some relaxing beach time and a nice long walk - a little strolling and shopping in town, dancing and, back at the hotel, more… (if you know what I mean!) My husband seemed more relaxed to me, more like we were when we were younger (smile) lighter, more playful and fun!!!!!"
~ AZ
For the first time in my life I trust myself...
"The most apparent thing is that for the first time in my life I am actually trusting myself. I have never in my life felt that before... ever. Today no matter what I trust my own inner feeling and act on it. It chills me to realise that this is something so major I got out of working with you. The pivotal moment I knew I felt a calling to work with you was when I shared a poem on Facebook and I asked if my healer friends could tell me why I was haunted by these lines. What you replied, about just trusting myself felt so true, and I felt truly seen and held, and called to what I truly was."
~ SH
Deep sleep and no more back pain.
"I slept like a baby last night, which is a huge gift. Additionally, my back is so much better after these three day, which you already mentioned might have to do with trauma release."
~ P.K.
MASSIVE changes!
"Just wanted to report that I had massive changes on the first day of your work, a lot was cleared out and I can feel a physical difference - thank you very much, Cristina."
~ Y.L.
Powerful AND Extremely Sexy!!!
"Thank you so very much for your work. Since yesterday I feel powerful and extremely sexy. It's a very nice sensation and I have the intuition that people perceive something different in me. Today I am very energetic (although tonight I have slept less than 5 hours), inspired, full of ideas and also highly emotional and more sensitive (in a good manner). I feel I'm better connected to myself and my sexuality. Thank you, from the bottom of my heart, soul and body."
~ S
Package A


Embody the Sacred – Meditations
Discount: 87% Off
Total Package Value $772
From Heartache to Joy Introductory Offer $99
SOLD OUT
Package B


Embody the Sacred – Group Program
Discount: 95% Off
Total Package Value $2700
From Heartache to Joy Introductory Offer $127
SOLD OUT
Package C


Embody the Sacred - Individual Session
Discount: 94% Off
Total Package Value $2950
From Heartache to Joy Introductory Offer $177
SOLD OUT
Embody the Sacred – Meditations
Are you tired of emotional triggering and drama?
Would you like to heal the relationships in your life?
Do you wish you could move out of chaos and into peace?
Are you yearning for a stronger connection to the Divine?
Do you want clearer and more powerful intuition?
Are you ready to accelerate your Spiritual Evolution?
Would you like a healthier and more resilient body?
Will you claim your Divine Mission with powerful action?
Using the Embody the Sacred meditations will:
Bring you to levels emotional stability and resilience you never thought possible
Clear triggering so that drama and relationship difficulties begin to fall away
Build a strong connection to the deep peace at your core
Create a static-free connection to your intuition and Divine inspiration
Stabilises your energy system at increasingly higher frequencies
Increase physical energy and strength and melt away physical complaints
Clarify your true purpose and provide powerful insights into how to take action towards it
The ALCHEMY of these meditations is beyond anything I have ever experienced...
"The Sacred Embodiment Meditation is gorgeous, wonderful, beautiful – WOW!!! After visualising/ feeling/ sensing the Diamond Star in my Divine Core, and Divine Heart, Divine Creative and Divine Mind Centres I could feel/ sense/ visualise, deep relaxation, warmth, colours filling me and surrounding me, weaving through every part of me, and what I can only describe as molecules, coloured and beautiful weaving around me above me and within me. I was shown many personally meaningful images and memories and then back to prisms of beautiful colour. It was all fabulous. I loved it and slept well afterward.
I've been meditating every night and getting stronger and reaching higher all time. I had a very restless sleep the other night - a word or sound kept waking me but couldn't remember it. Then during a meditation I got it again. This time I remembered. The word was ALCHEMY. I'd never heard this word before and thought, "Maybe it's a beauty product or something I've heard advertised." Until I googled it. I was amazed at what I discovered. And am now questioning, "Did I practice this? Is this what we've been doing with Cristina and her Sacred Embodiment healing? Or, is it a key to my future?" Whatever the answer I am totally enthralled, excited, interested - and, lost for words, really! And there's a first!"
~ J. C.
Audio 1: Activate Your Connection to Your Divine Core

Value: $122
Time: 8.02min
Using this meditation will:
Connect you right back to Source
Allow you to deepen and strengthen your connection to the Divine
Strengthen your intuition and inner knowing
Act in each moment out of a deep sense of inner known
Gratitude, Surrender, Forgiveness – All of it!
"LOVE this!! Thank you!! Love the rising above a certain vibration and the extra support and protection, love the sacred birth energy, balancing the giving and receiving in relationships, gratitude, surrender and forgiveness...essentially all of it!" ~ KM.
Audio 2: Awaken Your Divine Heart Centre

Value: $99
Time: 5.46min
Using this meditation will:
Heal heartache and grief
Support you to cultivate emotional resilience and stability
Allow you to feel greater and greater levels of compassion
Connect soul-to-soul with your Beloved, your children, family and friends, your animals, and all others
Released all the grief I've been holding onto in this life…
"I just wanted to let you know my experience, I felt a lot of sadness and cried my heart out, I had not reason for crying though. Went to sleep crying. Thank you for doing this, and helping me release all the grief I've been holding onto in this life, around difficult relationships - and also grief I know is connected to relationship experiences in past lives too." ~ R.L.
Audio 3: Awaken Your Divine Mind Centre

Value: $99
Time: 6.10min
Using this meditation will:
Strengthen and power-up your intuition
Allow you clearer insights into specific matters
Clear brain-fog so that you can think more clearly
Know more clearly what are thoughts and what are feelings
Have an increased perception of the Divine Spark in every person
What was unclear has become clearer!!!
"Am astonished to see how what was so unclear has become clearer and clearer this week."~ V.P. B..
Centered, with sharp focus, and NO MONKEY MIND!
"I feel much more centred than before. My mind focus is much sharper. And, the monkey mind, especially with respect to looping emotionally charged thoughts, has stopped."~ Z.B.
Audio 4: Awaken Your Divine Creative Centre

Value: $99
Time: 6.38min
Using this meditation will:
Liberate your creativity and your confidence in it
Heal, harmonise and deepen your relationships
Boost your powers of manifestation
Align your creativity, your relationships and your connection to resources with Divine Flow
Ensure all your creations are Divinely Aligned
My belly is STILL vibrating…
"I woke at 2 am and my body was vibrating - especially from my belly button down. And I'm still feeling that vibrating in my belly."~ E
No PMS and such powerful distance healing effects!
"Whoa - that was powerful and synchronistic!!! And, I had weird dreams. I felt called to change into red and eat red foods last night and my period just started early and deeply with no PMS signs! I've never felt such powerful effects from a distance healing as I have from yours – you truly are a healer of healers!!!"~ A.H.
Audio 5: Activate Your Divine Love Interface and
3 Basic True Tantra Flows

Value: $122
Time: 11.44min
As you activate your Divine Love Interface:
Unfair relationships or exchanges will morph, upgrade or fall away
Your system will no longer be able to over-give
Your 3 Basic True Tantra Flows, are the first three flows that are activated in the restoration of your Original Human Lightbody. They harmonise the flow of energy between your physical body, your energy body and your Divine Love Interface.

This meditation will:
Balance and harmonise difficult relationships or interactions
Restore a sense of fairness to your exchanges
Allow you to feel the support of the Divine
Restore a healthy flow of energy through your Lightbody
Clear over-giving, codependency, comparison and unfair exchange at planetary, galactic, universal and multiversal level
Happy, feeling strong, a deep underlying peace…
"Overall, I'm feeling happy, clearer, and, content in myself and stronger too - with a greater sense of peace... something which I know can only grow and blossom. I thank you so much for helping me to reach this place. You are a great light and inspiration in my life and I cannot thank you enough. I'm so curious about what will happen next and also wanted to let you know, that I experienced a deep underlying peace today – beneath the physical pain, beneath the thoughts, beneath the daily activities. Grateful."~ PK
Audio 6: Money Issue Clearing Meditation

Value: $77
Time: 7.28min
This meditation is intended to heal and harmonise a money issue.
A huge shift, and know that 45K months will soon become my new normal.
"Got the full pay and the two others WILL sign up for my big new mastermind on Monday!! Feeling a huge shift!! The work was amazing – it made me realize how close I REALLY am to having a 45k month!!!"~ CH
Audio 7: Love Issue Clearing Meditation

Value: $77
Time: 8.00min
This meditation is intended to heal and harmonise a love issue.
No more arguments – finally, we're talking again.
"The last session seems to have made it a little easier for us to talk. We had our first conversation without arguing in years a couple of nights ago. Something is definitely different."~ JN
Audio 8: Health Issue Clearing Meditation

Value: $77
Time: 8.32min
This meditation is intended to heal and harmonise a health issue.
New life with NO period pain!!!
"For the first time in my life I have experienced a period with NO PAIN – I can't tell you how much difference this is going to make in my life!!"~ V.S.
Bonus Audio:

The Secrets to Soulful, Sacred Sex - Teleseminar & Meditations
Value: $137
Secrets to Soulful, Sacred Sex Teleseminar

Time: 45min
In this teleseminar I share the story of Sacred Embodiment – The Method, how it works, and how it can be used to heal intimate relationships.
Sacred Embodiment – Individual Meditation

Time: 8min
This is an individual Sacred Embodiment meditation that activates and initiates the restoration of your Original Human Lightbody.
Sacred Embodiment – Meditation with the Beloved

Time: 12min
This is a Sacred Embodiment meditation to use for healing issues between you and your Beloved, or for calling in your Beloved.
Used regularly these meditations will support the restoration of your Original Human Lightbody and connect you more deeply with others.
As with all Sacred Embodiment work the benefits include:
Greater emotional stability and resilience
No more unhealthy patterns of relating
Greater compassion for others
Greater presence and clarity of mind
Strengthened intuition
An ability to think more clearly
Manifest in a divinely aligned way
Soul-to soul connection with others
Magical dream – crystal clear!!!
"The dream was so magical and crystal clear, I know it has to do with everything that is going on inside due to the clearing."~ S.C.
Deep and subtle…
"The results are so subtle, and deep." ~ J-A.M.
I've been waiting for lifetimes for this new beginning…
"So far - the impression of a lot changing on a lot of levels; a lot of clearing and letting go. Feeling this, but can't pinpoint exactly what yet?! Feeling of important new beginning of something that's been waiting from another time or even lifetimes maybe?! Thanks again!"~ A-M.
From Heartache to Joy Special Offer $99
*** 87% Saving ***
Are you ready to open to Divine Love, with your Beloved, family, friends and others?
Are you yearning to truly honour your body as a Temple for the Soul, restoring the sacredness of sex and birthing?
Will you accept your Divine Mission, reconnect with your community, and finally allow Source to support you?
Does cultivating a deeper connection to the Divine and becoming fully present on the Earth fill you with Joy?
12 Remote Group Clearings
WEEK 1: Opening to Divine Love
Strengthening and improving healthy relationship boundaries
Taking healthy boundaries to a new level
Clear over-giving and over-extending yourself
Connecting soul-to-soul with your Beloved, or calling in your Beloved
Cultivating a soulful, sacred relationship
Creating a clear, static-free connection to the Divine
Decade-long difficulties with family – GONE!!!
"I've finally been able to integrate difficult family experiences I had been keeping at bay for almost a decade, much faster than I imagined was possible."~ C.H.
I now feel worthy, strong and certain.
"I feel my core area is strengthened – I have always felt hollow and empty in that area, easily taking blows over the tiniest things which essentially come down to me feeling like "worthless completely." However in recent interactions, I have felt more certain."~ SH
I'm finally ready to make my own decisions in love…
"It's as if, all of a sudden, I am all in. As if I'm standing up to my mother and going for love, even though what she's always wanted is for me to not be emotionally dependent and end up with the wrong guy."~ CH
Surrounded by love and protection…
"I have been feeling a lot of very deep sadness and heartache. But at the same time I have felt myself to be surrounded by love and protection the last couple of days. Chance meetings have given me the company and support I have needed and I have felt that these were not coincidental. Thank you for including me in the group healing. I have appreciated it so much. Just knowing that you are sending me this healing energy has given me strength."~ C-L. O.
WEEK 2: The Body as a Temple for the Soul
Making the body, sex and birth sacred again
Clearing shame and trauma trapped in the body
Dissolving blocks to soulful, sacred intimacy
Healing the impact of unhealthy romantic and sexual relationships
Healing difficult birthing experiences
Restoring your sacred sexual wholeness
SUPER HOT SEX!!!
"Woopwoop!!! Super hot sex last night. Didn't actually see that coming!"~ RN
New relationship to my sexuality
"I feel a newness and ease in Being a sexual being."~ JAM
Sexual energy flows so much better
"I felt that my practice of dispersing sexual energy/tension throughout my body was exceptionally effective this morning while making love. I didn't feel as though any webs were cleared out, just that they were polished, reconditioned, more conductive."~ J
Orgasmic healing!!!
"We just told them we'd had an awesome healing that lifted us out of a rut and he said, "Was it orgasmic?" and I said, "Of course!"~ RM
Amazing kiss…
"Yesterday I could feel this amazing chemistry - we kissed and it was amazing."~ CH
Coming home into the body.
"Dearest cosmic sister, no shit you were working on the sacral area! Although the other themes you worked on were very connected to these too. I slept through the night for the first time in about 5 years without having to get up to pee. This may sound minor but it is something that has so been bothering me - and I knew was stress / trauma related in some way.
Then, during my yoga practice, I experienced a massive opening in my left hip and definitely big shifts in the sacral area. My entire left side has been kind of collapsed on itself for as long as I can remember and my sense is the work you did on healing the feminine and the areas we have not been able to receive love could be connected also. Watch this space!
No dreams come to mind. Woke very peaceful and relaxed. Until today have been tending to go into "busyness" and had found it challenging to rest into the process. Now something has really released in the resistance area - coming home into my body.
The question "Can you see your way through clearer?" really resonates because I feel this is what has been unfolding since day one: clarity through the mist. Awestruck and SOOOOOOOOO grateful to be part of this incredible process – with so much love and gratitude!"~ V xxx
WEEK 3: Accepting Your Divine Mission
Feeling fully at home on the planet
Bringing in all your gifts
Reconnecting with your deep purpose
Greater clarity and a new enthusiasm for your Divine Mission
Fully owning for the first time what I'm meant to be doing here on Earth!!!
"After yesterday's clearings, I had the experience today of discovering the next step for me in my practice and of fully owning for the first time who/what I am and what I'm meant to be doing here on Earth. This is tremendously exciting because I've been living in a state of "This is not quite right" for a very long time. The sense of lightness and clarity is extraordinary. Rather than being plans that "sound good in my head and on paper", these are plans for my practice and my life have sprung forward from my Essential Self. The difference is absolutely huge. I'm so grateful to be a part of this program. Thank you so very much, Cristina."~ Y.L.
Something in me was dying and you brought me right back to who I am…
"Wow… you put into words what I was only vaguely aware of. You were right. Lots has come out of this session. I am really kind of blown away. You got to the core of something I've been struggling with for a while now.
Not all healers go as deeply as this, or have enabled me to go as deeply as this, because you do create a very safe space, almost like sinking in to a warm pool. You worked with the most exposed parts of me, the most vulnerable parts. I felt like I was naked and you asked me to come into this warm water. And once I was cleansed of all those things I was carrying, I felt renewed, refreshed, almost as if I was reborn.
Your healing - it's rare, not the kind of thing you stumble upon every day. It's a bit like when you are walking along and you step into another realm just by chance. You may think you know what is just around the corner, but actually, it's something completely other. It's deep, much, much deeper than you think, or can imagine.
When you worked with me a month ago when I was stuck and something in me was dying, you were able to get me right back to myself and that was invaluable to me. I was really wavering there and you brought me right back to who I am."~ HR
For the first time desiring to reside fully into who and what I am.
"The power and intensity of the family and ancestral work took more than a week to integrate and I couldn't really reflect on it clearly anyway at that time, I suspect. Over the last 4 weeks my life has opened up in a remarkable way, like the "brakes" being taken off. It feels to me very connected to healing the stubborn resistance I have long had to "moving forward" in life which I have long felt was imprinted by being "forced" in birth. And this may sound random or unimportant but I bought a handbag two days after the work, something which I have NEVER even wanted, let alone considered buying. It feels to me symbolic of accepting my "womanhood" and for the first time desiring to reside in it, incarnate fully into what I am."~ V. P. B
WEEK 4: Cultivating a Deep Connection to the Divine
Creating a static-free connect to the Divine
Deepening your connection to intuition and inspiration
Acting out of a deep sense of inner knowing
Knowing the Divine has your back
Support from Source with money, resources, time and sacred space
Connecting with your sacred community
A direct and crystal clear message from the Divine.
"I was woken at 3am by a super powerful and unprecedented dream that completely clarified for me what I need to do next - and possibly that my wellness depends upon it. If that is only the first day.....??!!!!"~ V. P. B
Knowing the Universe has my back!!!
"So hard to believe we are nearing the end or start of this part of our journey together. Will truly miss receiving your email every evening, and the comfort of knowing, if that makes sense. Today, I can't explain, I felt a lightness of sorts... All those who I have dreamt of during these past 9 days - I dreamt last night they were in one room - all happy and talking together. It was lovely. I had a knowing feeling today, more clarity - a feeling of freedom, I suppose. A 'don't care' attitude so things didn't really bother me as much as they would usually.
I'm also feeling life is coming together bit by bit and a knowing that I will achieve receive and attract good things which is what the universe wants. And, I can smell things like fresh scents in the house - almost like oils except I know I don't have a burner - so, is it smell of peace tranquility and love?"~ J. C
3 Live Group Clearing Calls
Join me live at the beginning, the middle and the end of the program for an intensive group clearing, as well as support, for sharing, and to ask any questions you have about the process and your experiences.
Total Package Value $2700
From Heartache to Joy Special Offer $127
*** 95% Saving ***

Embody the Sacred - Individual Session
All of Package A & B plus:
30 Minute Individual Session with Cristina
Total Package Value $2950
From Heartache to Joy Special Offer $177
*** 94% Saving ***

Beautiful, open-hearted and generous!
"You have created something beautiful, with an open heart! Your generosity is expansive, the healing profound. Your Sacred Sexual Wholeness programme deserves to be "up there" with the best!"~ Julie-Anne
Touched by an amazing vision.
"Wow Cristina! That healing image really touched me, I could feel my body becoming water with it and then surrounded by purple light! Thank you very much!!"~ Sasha
Softer and able to empathise..
"He has seemed softer in the past couple days, like - able to empathise."~ RN
Full power...
"It has been FULL POWER!"~ VPB
Love not fear...
"I really resonated with acting out of fear rather than love. I have been running my business this way, and my relationship with my husband. I spend money this way as well. Thank you so much, sister!"
~ O.
Big breakthroughs!!!
"I'm doing well. I feel things shift and it feels good. There has been a lot else happening - huge positive reinforcement from clients, big breakthroughs in what I want and what I'm no longer attached to. I'll keep you posted."
~ KM.
Lots of energy flowing in my body.
"I think the healing is going well, I just feel like a lot of energy flowing in my body and a sense of positive emotions going on. Maybe just not sure what I am supposed to do with all that energy."
~ LCM
Enormous love!
"WowWowWow! No words right now but enormous love."~ V
More open to loving.
"I feel more open to a loving kind of energy."~ C.H.
I'm feeling creative for the first time in my life!
"I'm noticing that for the first time in my life I actually feel like a creative spirit!"~ S.H.
All that in just one session!!!
"I'm amazed at what you were able to know about me and my life - and that was from just one distance session."~ V.A.
I'm just going with the flow...
"It feels so amazing because I'm just going with the flow of wanting to express myself through scribbles or colour on paper for example!"~ S.H.
I'm different, able to receive!
"In the time we've been working, something has certainly changed in my energy system, and in my receptivity to positive energy."~ S.H.
Pain FREE!!!
"Wow – I had the deepest most wonderful sleep last night – AND today I am pain FREE!!!. Still waiting for the all too familiar backpain to return, but so far... TOTALLY enjoying that!"~ PK
Slept like a baby...
"Slept like a baby last night - could not wake up!"~ AZ
No anxiety.
"I woke up to absence of anxiety."~ J-A. M.
Less anger...
"Simple - less anger - almost detached."~ Je.C.
I'm so much calmer!
"Definitely a difference - subtle but, yes. I went to meet two of my sons to play golf quite a distance away, yesterday, and made a great shot at the second tee, but never saw the ball again! I couldn't believe my measured, reaction to this, and immediately turned my thoughts to how grateful I was to be playing with the boys. This is Major!"~ JO
Standing on solid ground!
"This work feels as though it brings solid ground to beneath my feet! What an amazing gift!"~ J-A.M.
Wonderful gift!
"Thanks for this wonderful gift!"~ M. H.
Get to core issues fast!
"I wanted to get rid of anxiousness, sad feelings, and hopelessness around smoking and over eating, and you helped me to heal on all levels – mind body spirit. After working with you I became more conscious and aware, noticing old beliefs and patterns that no longer helped me thrive. I loved how convenient it was to work with you in a home session, it was like I had invited my best friend over. I immediately felt comfortable talking to you – you are honest, to the point, genuinely concerned, have a sense of humor and quick right-on insights. I've now got a whole bunch of tools under my belt to utilize for unraveling fearful/painful thoughts. Working with you was great – it was safe, intense, interesting, fun, to the point, core work. Yep, you get to the core! That´s something people need to know about your work. There is no beating around the bush – you get to core issues fast. You made me aware of those comfortable feelings that I was trying to shove down inside and cover up. Anyone who is not afraid to see what they are trying to hide, or trying to not feel and wants to move forward releasing blocks should work with you. I think you are adorable – love ya and glad our paths have crossed – I will miss you my insightful quick witted goddess!"~ A.Z.
Working with you was bliss...
"I had major life/work imbalances and insecurity, a very chaotic household with a newborn and two year old. I felt anger and impatience ALL THE TIME. I felt like my body was out of my control, that I was fighting with it. I felt like all this pain was surfacing all at once, and I felt I was really deep into old wounds. So what I wanted was balance, peace of mind, a way to tap into the divine, heal old wounds, release tension, carve out a tiny bit of time for myself to talk honestly with a grown up.
Our sessions started laying a new foundation for where I am now – realigned, grounded, back in touch with myself and the divine. At the time we worked together, I knew I could be what I saw myself as being - from my body to state of mind - but I had had only glimpses then. I still struggle with a lot of the same things, and motherhood has been very difficult for me, but I have energetic and physical tools at my disposal that I didn't have then, and meditation and yoga, and more time now that my kids are not newborns.
Ohhh, Cristina. Working with you was bliss. Someone who listened to me, really listened to me. Who let me visualize and dream and tap into the power inside me. I loved best how for days after we talked, I would get little glimmers... waves of our conversations coming back to me. How I knew I was growing, even if it was hard. And just knowing there is a kindred spirit out there is really soothing for me. So is feeling that through visualization and meditation I can heal myself and reach out to others who feel the same spark.
As far as recommending you to others, I would, yes, because I felt absolutely changed by our chats. I would want them to know that your work is long-lasting, fruitful, empowering, healing, transformative, and grounding. They they'll find you to be empathetic, alive and joyful, and that you are sensitive and thoughtful, and are totally committed to the healing and growth of the individual you are working with.
I would love you to do some workshops, in person, or virtual, and would love to hear meditations recorded in your own voice. And one more thing, I've just got to say: LOVE YA!"~ Rose D.
My life changed - at lightning speed!!!
"I have always had problems in how I relate to people, especially romantically. This stemmed from severe self-esteem problems that started in my early teens and what I wanted was to be more confident and happier about the way I projected myself in the world. In all honesty, I would say you got the ball rolling even before we started actually working together. I remember when I was talking to you about a person I was interested in you picked up on my feeling hopelessness and said 'It's alright to love someone even if you don't think they love you back.' I had never before felt that I had the right to love anybody and that statement opened up the path for my first real relationship. Since we started working together I have felt SO much happier about who I am and how other people see me. I now feel I actually have more confidence than most people around me.
The confidence I have gained from working with you regarding my relationships has also enabled me to be more accepting of my chronic illness by enabling me to manage it guilt-free. When we talked about my work you helped me in areas where I sometimes get stuck. Like when I am ill I used to find it very frustrating as I have had to stop working for days or even weeks at a time. You helped me to finalise a list of right-brained tasks I can do when it is difficult for me to concentrate on small details. Together we came up with very practical, actionable solutions.
Truly, I have found working with you to be life changing. In minutes, or sometimes even seconds, you got me to use my own thoughts to completely undo years of conditioning so that I could see the situation from a totally new angle. From here, you worked with me to build new, positive belief patterns that helped me move forward in life. What I liked best about the work was seeing the blocks being smashed away so quickly. Progress was rapid and effective. Working with you is very intense but it gets things moving at an exhilarating rate!
Yes! I would recommend your services to anyone who has stumbling blocks in their lives; be they emotional or professional, and regardless of whether the issues are around love, money, career development or family relationships. What you get out of it comes from the effort you put in. The more you are prepared to go into the minute details of aspects of your life, the more profound the outcome will be. And it can really change your life!
It was for me, and also enlightening. I have learned to look at things in an entirely different way and feel much happier in my environment. When I find myself in situations that, in the past, would have left me feeling out of my depth and helpless, I now feel in control and empowered."~ L. D.
About Cristina Bevir: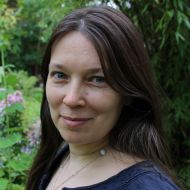 Cristina is the creatrix of Sacred Embodiment – The Method, an energetic clearing process for healing and activating your Highest Divine Essence.
She developed the process last year after an intense period of personal retreat. Surrounded by Nature, she was able to synthesise more than thirty years of esoteric healing studies into a gentle but powerful clearing process focused on awakening the lightbody to planetary, galactic, universal and multiversal levels.
Using the Sacred Embodiment energetic clearing process, she works with individuals to quickly reach their highest spiritual potential. She affectionately refers to this as the Ascension Fast-track.
She also supports couples to cultivate a soulful, sacred sex life by melting away anything in the way of them developing a soul-to soul connection and surrendering to the kind of soulful sacred sex that flows naturally from the heart - that goes beyond the mind and is known deeply in the body.
Her deep commitment to those who want to strengthen their connection with Source results has resulted in many powerful awakenings for her clients.
Package A


Embody the Sacred – Meditations
Discount: 87% Off
Total Package Value $772
From Heartache to Joy Introductory Offer $99
SOLD OUT
Package B


Embody the Sacred – Group Program
Discount: 95% Off
Total Package Value $2700
From Heartache to Joy Introductory Offer $127
SOLD OUT
Package C


Embody the Sacred - Individual Session
Discount: 94% Off
Total Package Value $2950
From Heartache to Joy Introductory Offer $177
SOLD OUT
DISCLAIMER: The information on this site is not intended or implied to be a substitute for professional medical advice, diagnosis or treatment. All content, including text, graphics, images and information, contained on or available through this web site is for general information purposes only. Please see a medical professional if you need help with depression, illness, or have any concerns whatsoever.
WE DO NOT OFFER MEDICAL ADVICE, COURSE OF TREATMENT, DIAGNOSIS OR ANY OTHER OPINION on your conditions or treatment options.SERVICES OR PRODUCTS THAT YOU OBTAIN THROUGH THIS WEB SITE are for information purposes only and not offered as medical or psychological advice, guidance or treatment.
CONSUMER NOTICE: You should assume that From Heartache To Joy has an affiliate relationship and/or another material connection to the providers of goods and services mentioned on this page and may be compensated when you purchase from a provider. You should always perform due diligence before buying goods or services from anyone via the Internet or offline.
REFUND POLICY: Please know that in order to honor the Law Of Energy Exchange, all exchanges need to be fair energetically. We love and honor all of our valued listeners and speakers. We are happy to offer a no questions asked, 30 day Money Back Guarantee to our customers to help them decide if a certain product works for them or not. However, in order to honor our speakers and their hard work we can only offer refund on one package for every customer per 90 days. Multiple refunds by same customer within 90 days will not be accepted. If speaker's offer involves personal sessions, then guarantee will be voided if the session has been availed. Additionally all refund requests should be sent within the 30 day guarantee period. We thank you in advance for respecting the energy exchange.
Copyright © 2016 - Eram Enterprises Inc - All Rights Reserved